Memorial Volunteer Auxiliary Continues to Make an Impact on Patient Care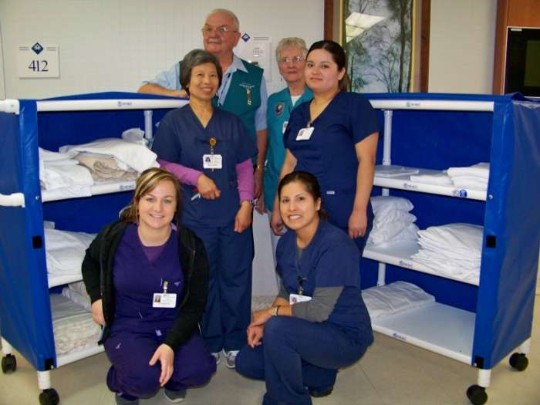 With contributions surpassing one million dollars, the Volunteer Auxiliary at Memorial Medical Center—Lufkin continues to give back to the non profit hospital system.  Recently, the group of volunteers invested in two supply carts in an effort to enhance efficiency on the nursing floors. The carts put linens and certain supplies at the point of care rather than in an area requiring staff to run back and forth to obtain what they need for routine patient care.The carts will save time for nurses as well as help the nurses be more organized and efficient.  Don Newland, Memorial Volunteer Auxiliary President and Judy Kocar, are thanked by nurses from the 4th floor nursing unit, Arceli Basat, RN; Edna Acevedo, LVN; Sandy Martinez, RN and Carlee Phillips, PCT, for their donation of the supply carts.
Publish date:
Monday, May 09, 2011
Find a Doctor
---
Looking for a doctor? Perform a quick search by name or browse by specialty.