Memorial Volunteer Auxiliary Donation Aids Pediatric Patients at Memorial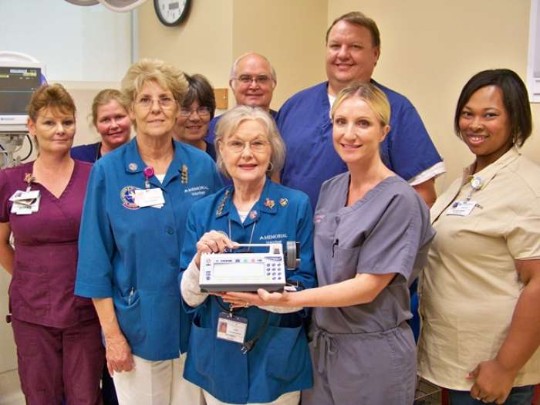 If you have visited the Memorial Gift Shop or purchased items at one of the Memorial Volunteer Auxiliary's shopping events, then you are helping to impact the lives of hospital patients.  Most recently the Memorial volunteers used proceeds from the gift shop and special events to purchase a Medfusion Syringe Pump.  This technology will be used in the Emergency Room to administer fluids at a precisely controlled infusion rate to pediatric patients. Diane Moore, PCT; Amy Krenek, RN; Virginia Owens, Volunteer; Chris Modena, RN Emergency Director; Jean Mizell, Volunteer Auxiliary President; Randy Ward, RN; Stephen Bennett, RN Trauma Coordinator;  Amanda Nylund, M.D., Emergency Medical Director and Alyssa Bonnie, ER Registration Clerk, display the new equipment. 
Publish date:
Thursday, July 10, 2014
Find a Doctor
---
Looking for a doctor? Perform a quick search by name or browse by specialty.