Memorial Volunteer Retires after 30 Years of Service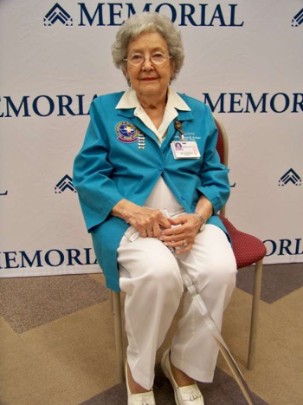 After 30 years of volunteerism, 95-year-old Millie Brumble plans to hang up her blue jacket – the symbolic outerwear worn by the members of the Volunteer Auxiliary of Memorial Health System of East Texas.
Ms. Brumble began volunteering with the Auxiliary in 1982. Since that time, she has accumulated 4,000 hours of unpaid time to Memorial. She will celebrate her 96th birthday this month and recently made the difficult decision to retire from her volunteer days at Memorial. She is currently the oldest member of the Auxiliary.
"I have always liked to volunteer, whether it was at church or here," Ms. Brumble said. "I love volunteering because I just really love people. I hated to retire, but I just felt like it was time."
As a self-proclaimed "people person," Ms. Brumble said her favorite act of volunteerism was to greet patients and visitors as they entered the main entrance of the hospital. Her first job in 1982 involved transporting patients to receive their X-rays.
"It was a pleasant job, and I felt like I was helping someone else. That was a good feeling," Ms. Brumble said. "The main reason I kept volunteering for so long was because I am a people person. I love talking to people."
For the past 30 years, Brumble was part of a vital organization within the hospital system. Volunteers raise funds through the hospital gift shop, jewelry, book and scrub sales. They also volunteer their time by popping popcorn, greeting guests, answering phones and working as waiting room attendants on the numerous hospital floors. Last year, the volunteer group surpassed the $1 million mark in contributions to the hospital.
Millie Brumble was an invaluable asset to the Memorial Volunteer Auxiliary," said outgoing Auxiliary president Don Newland. "Her warm and smiling face always welcomed people entering the hospital. She had one of the most positive attitudes that I have ever encountered. She was always willing to go that extra step to ensure the patients and their families were well taken care of. Millie never said 'no' but instead, 'Why couldn't we do this instead?' She was a 'gem among gems,' and we were so fortunate and blessed to have had her on our volunteer team for so many years. She will be sorely missed by all the volunteers."
Ms. Brumble said she still plans to volunteer when she can at various organizations.
Publish date:
Tuesday, May 01, 2012
Find a Doctor
---
Looking for a doctor? Perform a quick search by name or browse by specialty.