Memorial Volunteers Invest in Technology that Detects Bladder Complications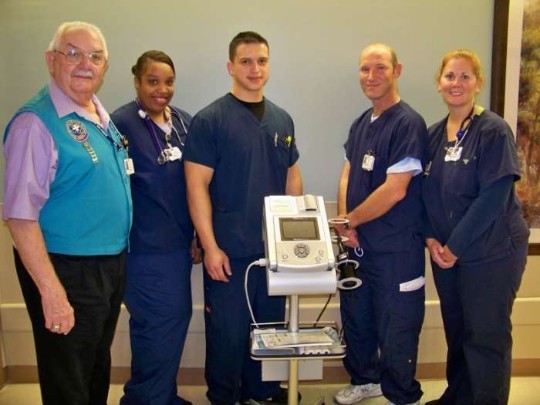 The volunteers with Memorial's Auxiliary are hoping their recent donation to the hospital will assist physicians diagnosing complications in a patient's bladder.  The group recently purchased a bladder scanner, a portable ultrasound device that can perform a quick, easy and non-invasive scan of the bladder.  Knowing bladder volume can aid in the diagnosis, treatment and management of many urinary conditions.  The new technology will be used in Memorial Medical Center—Lufkin's Intensive Care and Progressive Care Units. Kari Ivey, RN; Alejos Salais, RN; Richard Fennell, ICU Manager, RRT, RN; and Kim Dunham, RN, thank Don Newland, President of the MMC-Lufkin Volunteer Auxiliary for the recently donated Bladder Scanner.  The Volunteer Auxiliary raises money through fundraisers such as $5 jewelry sales, book sales, Memorial Gift Shop sales and more throughout the year to provide specialized equipment to various areas within the hospital.
Publish date:
Thursday, November 17, 2011
Find a Doctor
---
Looking for a doctor? Perform a quick search by name or browse by specialty.