Memorial's Power of Pink Event Receives Top Honors from Texas Public Relations Association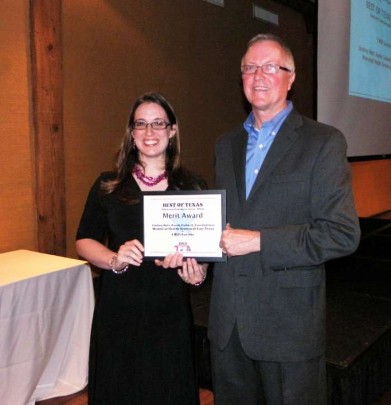 The 2010 Power of Pink event, hosted by Memorial Health System of East Texas, was recently recognized by the Texas Public Relations Association (TPRA) as a Silver Spur Award Winner.  The special video produced for the 2010 Power of Pink was also recognized as a Best of Texas Merit Award Winner by the state's most prestigious professional public relations organization.
According to TPRA, the Silver Spur Award honors outstanding professional achievement in developing and implementing significant public relations programs or projects.  A winning Silver Spur entry clearly demonstrates that sound public relations objectives and philosophy were incorporated into the program and that high standards of research, planning, execution and evaluation were met.   
The Best of Texas Award recognizes outstanding achievement using individual communications tools in support of specific public relations objectives. A winning Best of Texas entry demonstrates superior use of the communications tool employed and documents that the rationale and execution led to desired results in support of a specific public relations objective.  The "I Will Survive" video produced for the Power of Pink was awarded The Best of Texas Merit Award for Electronic Communications.
"I am very proud of the recognition for both of these projects," said Yana Ogletree, Director of Marketing and Public Relations at Memorial Health System of East Texas.  "The Lufkin area already knows how special this event is by voting it Best of Lufkin four years in a row.  It's great to see that a statewide association has taken notice as well."
The Power of Pink is a luncheon held every year in October to promote breast cancer awareness.  It began 18 years ago with a group of ladies gathering in the halls of Memorial Health System of East Texas with a sack lunch to honor and remember their friend Jan Moore.  The event has grown to over 700 attendees at the Lufkin Civic Center.
The "I Will Survive" video presentation, which debuted at the 2010 Power of Pink luncheon, featured Memorial employees, physicians and community leaders expressing their passion for breast cancer awareness through song and dance.  The video was produced by the hospital's marketing team and Randy Cadwell, the city's video producer and channel 15 manager.   The video currently can be viewed at www.memorialhealth.org or on Memorial's You Tube channel—MemorialHealthTv.  
"I am honored to be recognized for my work with the Power of Pink and the 'I Will Survive' video," said Lindsey Mott, Community Relations Specialist at Memorial Health System of East Texas and Power of Pink organizer.  "These two projects make it possible for me to reach out and show support for those who have fought, are fighting, or know someone who is going through breast cancer or any type of cancer.  I feel blessed to be a part of something that touches so many."
The date for the 2011 Power of Pink is tentatively set for October 21 at the Lufkin Civic Center.  More information will be available as October approaches.
Publish date:
Friday, May 27, 2011
Find a Doctor
---
Looking for a doctor? Perform a quick search by name or browse by specialty.