MHSET Receives American Heart Association's Get With The Guidelines Silver Performance Achievement
Memorial Health System of East Texas recently received the Get With The GuidelinesSM–Heart Failure Silver Performance Achievement Award from the American Heart Association. The recognition signifies that Memorial has reached an aggressive goal of treating heart failure patients to core standard levels of care as outlined by the American Heart Association/American College of Cardiology secondary prevention guidelines for heart failure patients. 
"Memorial Health System of East Texas is dedicated to making our care for heart failure patients among the best in the country. We will continue in our efforts and build off the success of this award by continued implementation of the American Heart Association's Get With The Guidelines–Heart Failure program that allowed us to accomplish this goal," said Mario Estrella, Vice President of Patient Care Services.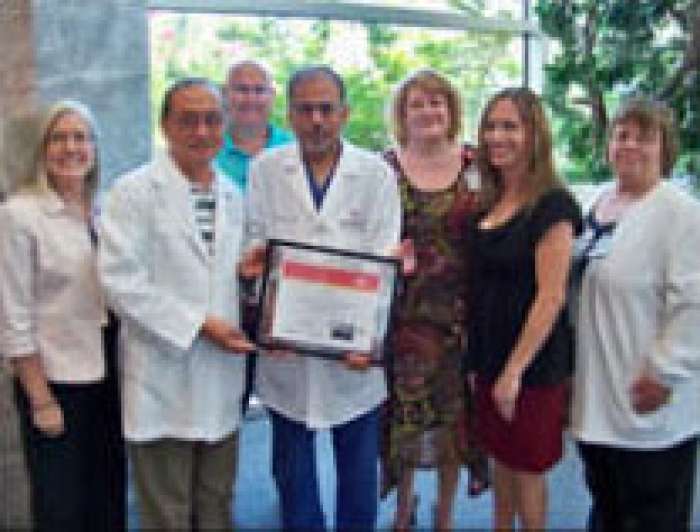 Get With The Guidelines is a quality improvement initiative that provides hospital staff with tools that follow proven evidence-based guidelines and procedures in caring for heart failure patients to prevent future hospitalizations. According to Get With The Guidelines–Heart Failure treatment guidelines, heart failure patients are started on aggressive risk-reduction therapies such as cholesterol-lowering drugs, beta-blockers, ACE inhibitors, aspirin, diuretics and anticoagulants in the hospital. They also receive alcohol/drug use and thyroid management counseling as well as referrals for cardiac rehabilitation before being discharged.
"The full implementation of national heart failure guideline recommended care is a critical step in preventing recurrent hospitalizations and prolonging the lives of heart failure patients," said Gregg C Fonarow, M.D., National Chairman of the Get With The Guidelines Steering Committee and director of Ahmanson-UCLA Cardiomyopathy Center. "The goal of the American Heart Association's Get With The Guidelines program is to help hospitals like Memorial Health System of East Texas implement appropriate evidence-based care and protocols that will reduce disability and the number of deaths in these patients."
Contact: Yana Ogletree Office: 936-639-7163  Get With The Guidelines–Heart Failure helps hospital staff, like those at Memorial Health System of East Texas, develop and implement acute and secondary prevention guideline processes. The program includes quality-improvement measures such as care maps, discharge protocols, standing orders and measurement tools. This quick and efficient use of guideline tools enables hospitals to improve the quality of care it provides heart failure patients, save lives and ultimately, reduce healthcare costs by lowering the recurrence of heart attacks.
About Memorial Health System of East Texas
As the largest health care system in the deep East Texas area, Memorial Health System of East Texas is a private, not-for-profit hospital that provides care to almost a quarter of a million patients each year. Since its inception in 1949, Memorial Health System has paved the way for quality, innovative health care in East Texas. In fact, Memorial consistently ranks among the nation's best for exceptional health care and patient satisfaction.
Memorial Health System of East Texas is comprised of four hospitals—Memorial Medical Center— Lufkin, Memorial Medical Center—Livingston, Memorial Medical Center—San Augustine, and Memorial Specialty Hospital, the only rural long-term acute care facility within the area. Memorial offers a wide array of services, including the newly renovated Arthur Temple Sr. Regional Cancer Center, which consistently earns a three-year accreditation with commendation from the Commission on Cancer. In 2009 the System opened the doors to the area's first dedicated heart and stroke care center— the Cardiovascular & Stroke Center of East Texas. With a partnership with The Methodist Hospital in Houston, Memorial provides an advance level of stroke care, while offering the latest in heart care from a highly trained team of heart surgeons and cardiologists. Memorial was the first health care facility in Texas to acquire the DaVinci High Definition Robot for robotic assisted procedures in heart, lungs, kidneys and gynecology. The hospital also is known for providing the area's only comprehensive diabetes center—The Horace C. Polk Regional Diabetes Center. Other centers of excellence include the Temple Imaging Center that offers some of the most advanced procedures in the area, including PET/CT scanning for cancer and Alzheimer's, 64 Slice CT scanning, Open Bore MRI, 4D Ultrasound, and digital mammography. Other specialty areas include Orthopedic care, Women's Services, Inpatient and Outpatient Rehabilitation, Homecare, Wound and Hyperbaric Therapy, Kidney & Diabetes Treatment, Sleep Disorders Treatment, Occupational Health and Express Lab. Memorial Health System of East Texas—founded and funded by the people it serves.
Publish date:
Tuesday, June 29, 2010
Find a Doctor
---
Looking for a doctor? Perform a quick search by name or browse by specialty.