Mission-Oriented Team Provides Spiritual Focus to St. Luke's Health Memorial Ministry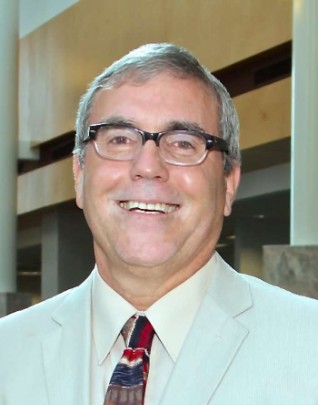 As physical changes continue to take shape on the St. Luke's Health Memorial campus – including new signage along Frank Street and major capital investments at the Temple Cancer Center – a more divine transformation is also occurring within the walls of the hospital.
One aspect of St. Luke's Health Memorial's integration process into the Catholic Health Initiatives organization is to formulate an emphasis on the healing ministry of the Church, supported by education and research.
Four new staff members make up Memorial's newly appointed Mission Integration team, focused on incorporating overall spiritual care and holistic healing, and to facilitate awareness of the sacred work of healing.
"We provide professional leadership to assure the integration of our mission as a core business practice for our ministry," said Jay Gilchrist, Vice President of Mission Integration. "Our expertise and work is rooted deeply in the CHI Core Values of Reverence, Integrity, Compassion and Excellence. We strive to help create a culture grounded in these values and expressed through our common vocation to heal as Jesus healed across the health continuum in all of our communities."
The Mission Integration team focuses on professional spiritual care for all patients, families and staff; workplace spirituality; faith partnerships with the community; ethics; strengthening the practice of compassionate service; and helping build healthier communities.
The new team includes Gilchrist, who served as a Catholic lay minister for more than 35 years with experience as a chaplain, lay pastor/church planter and a supervisor of lay pastors. For the past five years, he served as Vice President of Mission Integration for Via Christi Hospital in Pittsburg, Kansas. He holds a Bachelor of Arts degree in Religion and Letters from the University of Iowa, a Master of Arts degree in English from Iowa and a Master of Arts degree in Christian Spiritualities from Mundelein College of Loyola University in Chicago.
Gilchrist will oversee spiritual care, ethics, healthy communities efforts, workplace spirituality, collective theological reflection on holy healing work, and mission/ministry leadership development.
Charles Macko is St. Luke's Health Memorial's Manager of Spiritual Care. Macko has a Bachelor of Science degree in Communication from the University of Southern Mississippi. He was a training coordinator at Walt Disney World hotels and resorts, and worked for Wal-Mart for 15 years in management. He attended Notre Dame Seminary in New Orleans and received his Master's degree in Divinity and has been a hospital chaplain for the last seven years in Oklahoma City at both Integris Baptist Medical Center and St. Anthony's Hospital.
Rev. Ed Thomas serves as the Chaplain for St. Luke's Health Memorial Lufkin. He is ordained in the Christian Methodist Episcopal Church and has been involved in ministry for more than 35 years. While discerning a career change to chaplaincy, he served as a Pastoral Resident in the Greenville Health System in Greenville, SC. He also did Clinical Pastoral training at Wake Forest Baptist Medical Center in Winston-Salem, NC. Rev. Ed has a Bachelor's degree in Organizational Management from Stillman College in Tuscaloosa, AL, a Master's of Divinity from Memphis Theological Seminary and a Doctorate in Ministry from Hood Theological Seminary in Salisbury, NC.
Walter Futch serves as the Chaplain at St. Luke's Health Memorial in Livingston and at the Specialty Hospital in Lufkin. Deeply rooted in the East Texas community, he served as Senior Pastor at Trinity Baptist Church in Lufkin for 23 years, and before that as youth and music minister. He is a graduate of New Orleans Baptist Theological Seminary. Futch recently completed a year as a Chaplain Resident at Baylor St. Luke's and Texas Children's Hospitals in Houston.
"We look to the Holy Spirit to help us bring new life, energy and viability to every encounter with the people of Deep East Texas," Gilchrist said.
Publish date:
Monday, June 29, 2015
Find a Doctor
---
Looking for a doctor? Perform a quick search by name or browse by specialty.