MMC-Livingston Senior CT Technologist receives Everyday Hero award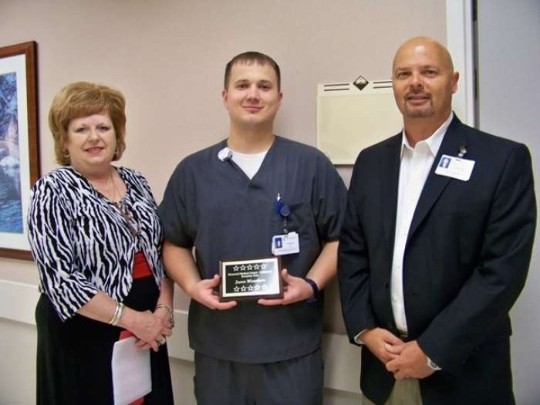 Memorial Medical Center-Livingston recognized Senior CT Technologist Jason Minchew as the hospital's Everyday Hero for the year's first quarter.
The Everyday Hero award is an internal honor presented to employees who exemplify the act of going above and beyond traditional expectations of the hospital staff. Employees can nominate each other for the award when outstanding behavior is noticed. Patients and guests may also leave written comments about a staff member's performance.
Memorial Medical Center-Livingston Chief Nursing Officer Norma Sanford, RN, said she witnessed Minchew helping a patient through the cafeteria line, and she felt Minchew was worthy of the award.
"Jason is always known for doing things like this. He was very kind and compassionate with this woman as he helped her with her selection and patiently talked to her the entire time," Sanford said. "Compassion and a caring attitude are part of our jobs here; however, when we see someone going above and beyond that call of duty, we want to acknowledge that positive behavior.
Minchew has been employed at Memorial Medical Center-Livingston for nearly three years.
Cutline: Senior CT Technologist Jason Minchew (center) received Memorial Medical Center-Livingston's Everyday Hero award for his compassion and caring attitude toward a patient. Chief Nursing Officer Norma Sanford, RN, (left) and Administrator David LeMonte (right) surprised Minchew with the award along with other hospital managers and directors.
Publish date:
Tuesday, June 05, 2012
Find a Doctor
---
Looking for a doctor? Perform a quick search by name or browse by specialty.