Mosaic Center Receives Donation from Women's Power Lunch
The Mosaic Center was the recent recipient of donations collected at the Memorial Medical Center – Lufkin Women's Power Lunch.  Shirley Terrill, Donya Stifle, Administrative Assistant at the Mosaic Center, Marie Haskins, Diana Scott, Bennie Rogers, Carol Ramsey, Mosaic Center Program Director, Lillie Tullos, Freda Honeycutt, Brenda Stockman and Donna Busler, Mosaic Center Executive Director are shown with some of the donated items.  Donated supplies included copy paper, Kleenex, paper towels, and cleaning wipes.  Each month the Women's Power Lunch group collects items for various non-profit agencies.  In February, attendees are asked to bring items for the HOPE Center.  The luncheon is free to the public.  To learn more about The Women's Power Lunch and to view the 2014 schedule, please visit https://www.memorialhealth.org.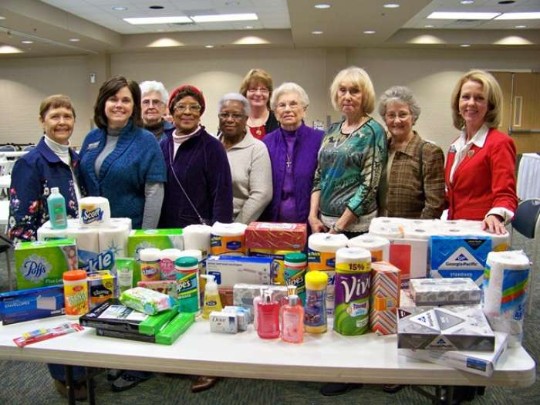 Publish date:
Wednesday, February 05, 2014
Find a Doctor
---
Looking for a doctor? Perform a quick search by name or browse by specialty.