New System Board Members Announced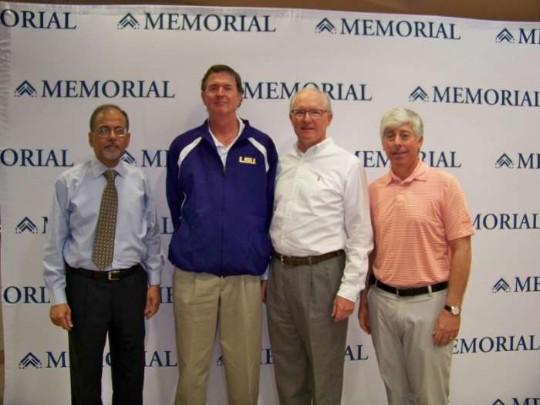 Memorial Health System of East Texas welcomes its 2012 Board of Directors, a governing body that ultimately oversees the System's four hospitals, Memorial Medical Center—Lufkin, Memorial Medical Center—Livingston, Memorial Medical Center—San Augustine and Memorial Specialty Hospital.
The board was recently expanded to add three additional physicians, Drs. Michael Arnold, Ravinder Bachireddy, and David Glenn.  They join Dr. Sid Roberts on the board, a previously appointed at-large member.  Dr. George Fidone will begin service on the board as the incoming Vice President of the Memorial-Lufkin medical staff, joining Dr. Daniel Fuentes who will serve as the President of the medical staff.  
According to hospital leadership, the move to add more physicians to the board will help strengthen the alignment between the hospitals and physicians as health care reform measures continue to affect the local medical community.  "We are delighted to welcome these talented physicians to the board.  Obviously, physicians have a vested interest in our medical communities and therefore bring different perspectives and ideas on how we can enhance health care in East Texas," said Jack Sweeny, Chairman of the Board.
These physicians join re-appointed board members Jack Sweeny, Chairman, Randy George, and Carl Ray Polk, plus existing members Gip Friesen, First Vice Chairman, Jay Glick, Second Vice Chairman and Secretary, Ray Baldwin, Rona Friesen, Trey Henderson, Bubba Henderson, Patricia McKenzie, Ed.D., Jay Shands, Immediate Past Chairman, and H.E. Striedel, Board Chairman of Memorial Medical Center—Livingston.
 
Publish date:
Monday, February 20, 2012
Find a Doctor
---
Looking for a doctor? Perform a quick search by name or browse by specialty.