Nurse Retires After 30 Years with the Labor and Delivery Department at MMC-Lufkin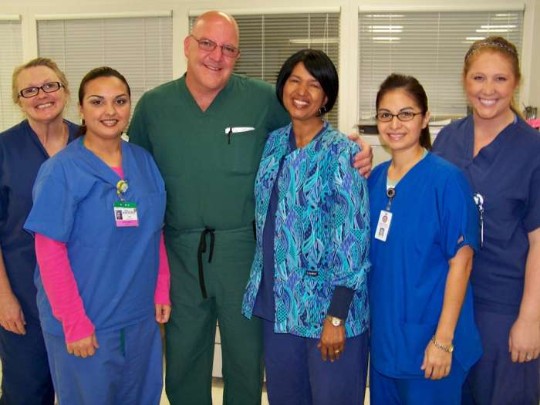 Watching new families being born is one of the things Jo Ann Hunt, a Registered Nurse (RN) in Labor and Delivery at Memorial Medical Center – Lufkin, likes the most about her job.  After more than 30 years, Ms. Hunt will be retiring. 
The highly respected Jo Ann Hunt has been at Memorial full time since 1983.  She began her career in the Licensed Vocation Nursing (LVN) program that started at Memorial.  She worked on a Medical Surgical (Med Surg) floor and the Nursery for 10 years before returning to Angelina College for her RN degree and then Stephen F. Austin State University for a Bachelor in Nursing (BSN).  Ms. Hunt did have to leave Memorial for a year to obtain her BSN, but returned in the mid-80's and has been here ever since.
Ms. Hunt not only has a good working relationship with her co-workers but also with the physicians in the community.  "She will be sorely missed," said Dr. Jerry Johnson, Obstetrics and Gynecology.  "I have enjoyed working with Jo Ann.  She has always taken excellent care of patients."
It has been a very rewarding career according to Ms. Hunt.  She explained that she is always humbled when someone comes up to her to say how they had an enjoyable experience with her or that she was such a great nurse.  "I have had ladies come up to me after 10 years and still say how great their experience was," said Ms. Hunt.  "Knowing that I have made the experience of having a baby a little easier for so many is what has kept me here!"
Ms. Hunt has been a mentor to many new nurses coming into labor and delivery.  Co-workers describe her as someone they have always felt comfortable with because of her years of experience and knowledge.  Yvette Compean, RN, BSN Memorial Labor and Delivery said, "Jo Ann has always been a pleasure to work with.  She is not only a great nurse, but she is also someone to look up to as a person and friend."  Ms. Compean went on to say that Jo Ann will be greatly missed.
As her final day in the labor and delivery unit draws nearer, Ms. Hunt says she has not made any specific plans for her retirement yet.  "I have some things, gifts I would like to make for my kids and grandkids.  But, mostly I want to relax and do nothing for a little while!"
Cutline:  Jo Ann Hunt, RN, BSN (3rd from right) at Memorial Medical Center – Lufkin is retiring after more than 30 years of service in the labor and delivery department.  Sallie Mooney, Yvette Compean, Dr. Jerry Johnson, Carmen Soto and Lacey Luce join co-workers and physicians in letting Ms. Hunt know she will be missed.  Ms. Hunt has been in labor and delivery at MMC-Lufkin since the mid-80's.
Publish date:
Tuesday, November 27, 2012
Find a Doctor
---
Looking for a doctor? Perform a quick search by name or browse by specialty.