Nurses Recognized with DAISY Award at St. Luke's Health-Memorial Livingston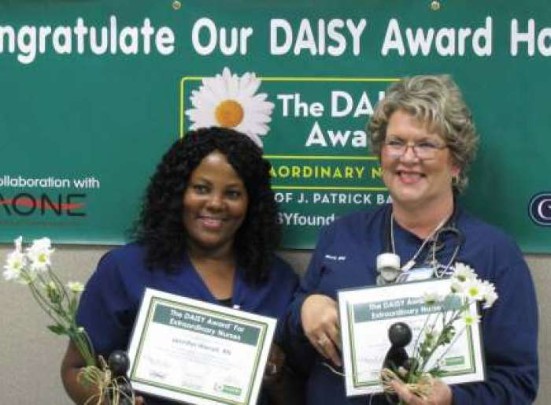 Compassionate, caring, dedicated, committed, and kind. Nurses possess all of these attributes and more, but oftentimes, these hardworking men and women do not receive the thanks they deserve for the vital role they play in a patient's experience.  St. Luke's Health-Memorial Livingston recently partnered with The DAISY Award for Extraordinary Nurses to honor nurses who consistently demonstrate excellence through clinical expertise and extraordinary compassionate care. 
This quarter's Daisy Award winners are Jennifer Harrell and Terri Purvis, who were among 99 employees recognized by patients, physicians and staff members for excellence. 
"We have some of the greatest nurses," said Kristina Froese, Chief Nursing Officer for St. Luke's Health-Memorial Livingston.  "This award is a way for our nurses to know how much doctors, patients and coworkers appreciate them.  It is an opportunity to recognize our nurses on an individual level."
"Each quarter the hospital awards committee reviews all nominations and selects the top two nurses for the Daisy Award," said Kina Hooker, RN, DAISY Award Committee Chair. "It is hard to narrow it down to just two each time as all of the nominations tell amazing stories about our nurses.  We think all of our nurses are exceptional, but the committee felt that Jennifer and Terri truly exemplified the DAISY Award."
The DAISY Award nominee must meet certain criteria that includes exemplifying the following characteristics:
Reverence: establishes a special connection with patients and families through trust and emotional support
Integrity: maintains the trust and confidence of all with whom he/she engages
Compassion: is thoughtful, compassionate and caring in all situations
Excellence: strives for the highest quality and continuous improvement
Goes above and beyond to care for the needs of patients and families and takes time to educate and include the patient and family during the care process. 
Nomination forms are available throughout the St. Luke's Health-Memorial Livingston facility and online at https://www.chistlukeshealthmemorial.org.
The not-for-profit DAISY Foundation is based in Glen Ellen, CA, and was established by family members in memory of J. Patrick Barnes.  Patrick died at the age of 33 in late 1999 from complications of Idiopathic Thrombocytopenic Purpura (ITP), a little known but not uncommon auto-immune disease.  The care Patrick and his family received from nurses while he was ill inspired this unique means of thanking nurses for making a profound difference in the lives of their patients and patient families.
Recognition is one initiative of The DAISY Foundation in service to the nursing profession.  Additionally, DAISY offers J. Patrick Barnes Grants for Nursing Research and Evidence-Based Practice Projects, The DAISY Faculty Award to honor inspiring faculty members in schools and colleges of nursing, and The DAISY in Training Award for nursing students. More information is available at https://DAISYfoundation.org.       ;
Publish date:
Wednesday, December 07, 2016
Find a Doctor
---
Looking for a doctor? Perform a quick search by name or browse by specialty.