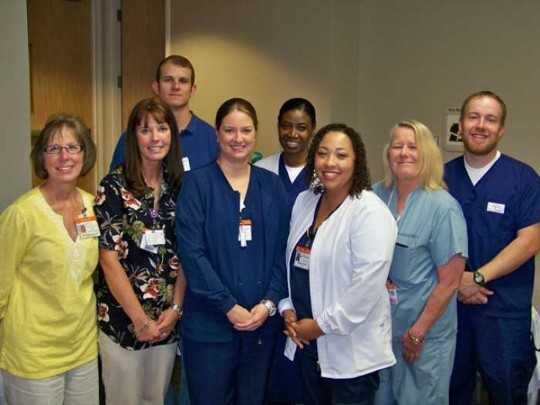 St. Luke's Health Memorial recently recognized nurses for the essential role they play in the well-being of the community and within the organization.  Each year, the nation recognizes the important work done by nurses during National Nurses Week. Memorial honored the commitment and excellence its nurses provide to Angelina County and the surrounding communities during a week-long celebration May 4-8.  As part of the celebration, nurses were chosen by their peers as "Nurse of the Year."
Employees on each nursing unit were asked to vote for a nurse on that unit that possesses a positive attitude, is a team player, is dependable, displays high moral and ethical character, is compassionate and caring and is willing to go the extra mile.  The nurses that were chosen were Matt Williams, RN – ICU; Scott Stanford, RN – MSH; Randi Harmon, RN – PCU; Sue Cromeens, LVN – Cath Lab; Marcus Coats, LVN – ER/Assessment Center; Shane Waller, RN – OR; Dorothea Robinson, LVN – Calder 1; Willie Spikes, RN – Internal Agency; Cindy Kendrick, RN – Henderson Family Center; Brandi Johnson, RN – K3; Deidra Taylor, RN – K4; Audra Harris, RN – K5; Mary Bannon, RN – Nurse Support Group; Becca O'Quinn, RN – Case Manager; Sonia Langford, RN – Homecare; Shelicia Riggins, RN – Pre-Admit; Denita Criswell, RN – Day Surgery and Evelyn Lopez, RN – Recovery Room. These nurses were recognized at a dinner held in honor of Nurse's Week.
Publish date:
Thursday, May 21, 2015
Find a Doctor
---
Looking for a doctor? Perform a quick search by name or browse by specialty.