Orthopedic Surgery's Passport to Travel At Memorial Health System of East Texas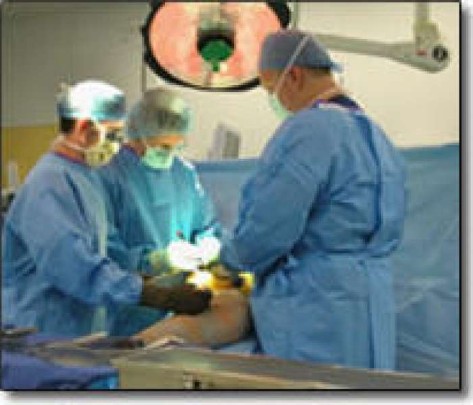 Persuaded by her children, eighty-six year old Melba Landry decided to move closer to her only daughter. Her energetic spirit and remarkable health gave Landry the confidence to begin the moving process. Unfortunately during the process, Landry encountered a knee injury.
After consulting with her son-in-law, Dr. Roy Guse an Orthopedic Surgeon at Texas Specialist Center in Lufkin, Ms. Landry decided to proceed with a total knee replacement at Memorial Health System's Orthopedic Center of East Texas.
"The nurses and staff at Memorial's Orthopedic Center treated me like a queen. They were so friendly, kind and attentive. I felt very comfortable before the procedure, while recovering and during therapy," stated Ms. Landry. "Even though I walked independently without a cane or walker, I didn't want to leave the hospital. I give the facility and staff a perfect score and will return to Memorial should I need something in the future."
Memorial Health System of East Texas is home to the only comprehensive Orthopedic Center in East Texas. The continuity of care begins in the surgeon's office, through imaging services, education, surgery, recovery, inpatient and outpatient rehabilitation and concludes with Homecare when needed.
"The Orthopedic Center of East Texas has complete comprehensive care. Patients tell me they totally enjoy the care they receive from pre-operation to the time they leave," said Dr. Dan Fuentes, Orthopedic Surgeon. "The patients receive one-on-one nursing care and attention and prompt therapy treatments."
"Through the Passport to Travel Orthopedic Program, Memorial does a great job educating patients on what to expect before, during and after knee, hip, and shoulder replacement surgery," stated Dr. Roy Guse, Orthopedic Surgeon. "I have found that through this program patients are better informed about what to expect the first few days after their procedure. Additionally, through education we can identify a patient's support system and their ability to recover at home successfully."
The patient's road to recovery begins in the orthopedic surgeon's office when they are given a "Passport to Travel" folder that guides them through the whole medical journey. This folder contains information on pre-registration requirements, frequently asked questions, a home safety checklist, a guide explaining the equipment and technology that is used in the hospital and at home, a comprehensive biography on their surgeon, and a specially-designed lanyard that is worn by the patient upon entering the hospital. This lanyard easily identifies the patient as someone who needs special mobility assistance."Patients are saying good things about The Orthopedic Center of East Texas. What patients really like is the recognition from wearing the lanyard, valet parking, wheelchair accessibility at the front door and the personal attention given by the Orthopedic Clinical Nurse Coordinator," stated Dr. Jackson Wagnon, Orthopedic Surgeon. "The Nurse Coordinator is someone patients can call about questions or concerns before and after surgery."
Dr. Dan Carter, Orthopedic Surgeon, agrees. He is impressed with the "Passport to Travel" initiative and feels that it offers patients an informative and convenient way to travel through the pre and post surgery process. "From the time of scheduling to departure, the Center's professional staff does a good job caring for the total patient."
Guest amenities offered at the Orthopedic Center of East Texas include a dedicated orthopedic center with updated patient suites that feature customized hip chairs, personal choice dining, complimentary WiFi (Wireless Internet Connection), curbside assistance, and free valet parking.
"I experienced 5 star treatment at Memorial Health System of East Texas," said Ms. Landry. "Today I can walk without pain and enjoy a quality life, whether it is shopping with my daughter or driving myself to church. The Passport to Travel that I received at Memorial Health System of East Texas put me on the road to a full recovery."
Publish date:
Wednesday, December 30, 2009
Find a Doctor
---
Looking for a doctor? Perform a quick search by name or browse by specialty.