Polk Education Center earns prestigious ADA Recognition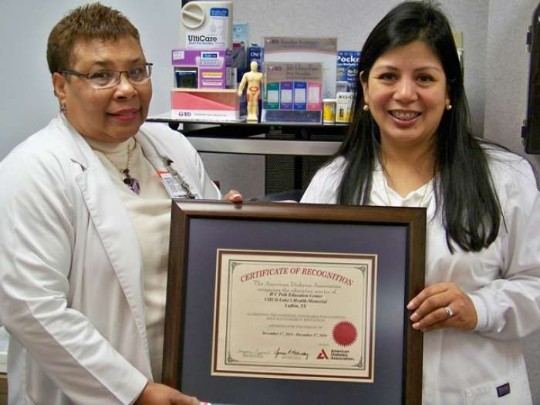 The Polk Education Center at St. Luke's Health Memorial Lufkin was recently recognized by the American Diabetes Association for continually maintaining a quality diabetes self-management education program. The ADA Education Recognition Certificate signifies that the Polk Education Center program offers high-quality education that is an essential component to effective diabetes treatment.
The Association's Education Recognition Certificate assures that educational programs meet the National Standards for Diabetes Self-Management Education Programs. These Standards were developed and tested under the auspices of the National Diabetes Advisory Board in 1983 and were revised by the diabetes community in 1994, 2000, 2007 and 2012.
The Polk Education Center staff voluntarily applied for the recognition. Programs that achieve Recognition status from the ADA have a staff of knowledgeable health professionals who provide patients with comprehensive information about diabetes management.
"The process gives us a national standard by which to measure the quality of services we provide," Polk Education Center Program Coordinator Ethel Ballenger said. "And, of course, it assures our patients that they will receive top-quality service."
According to the American Diabetes Association, there are 29.1 million people living with diabetes. While an estimated 21 million have been diagnosed, 8.1 million people are not aware that they have the disease. Each day approximately 4,657 people are diagnosed with diabetes.
The Polk Education Center at St. Luke's Health Memorial Lufkin was founded two decades ago by the Polk family to raise awareness about diabetes. Ray Polk and his parents were all insulin dependent. When his father died 20 years ago, Polk went to the St. Luke's Health Memorial board and asked that something be done to educate others like himself. The staff at the Polk Education Center offers one-on-one and group counseling regarding diabetes awareness, nutrition and an overall healthy lifestyle.
Founded in 1940, the American Diabetes Association is the nation's leading non-profit health organization supporting diabetes research, advocacy and information for health professionals, patients and the public.
For more information about the Polk Education Center or diabetes awareness, call 639-7585.
Publish date:
Tuesday, January 13, 2015
Find a Doctor
---
Looking for a doctor? Perform a quick search by name or browse by specialty.