Polk Education Center Recognized by ADA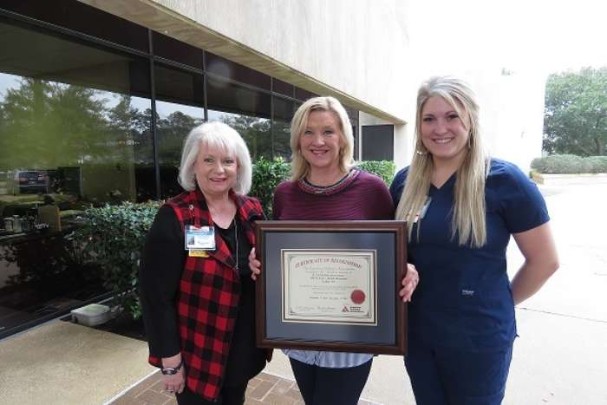 Pictured from left to right: Mary Franklin, Market VP of Patient Care Services; LeAnne Anderson, Diabetes Program Coordinator; and Adrianna Bernal, Education Specialist.
The key to living with a diabetes diagnosis is sustainable self-management. The key to sustainable self-management is education.
The HC Polk Education Center at St. Luke's Health-Memorial Lufkin was recently awarded continued recognition from the American Diabetes Association (ADA) for its diabetes self-management education program. By offering high quality education services, the staff at the Polk Education Center is handing the keys to success to its patients.
"We are very proud of the fact that we have been a recognized education program for 25 years, having consistently met the rigorous standards required by the American Diabetes Association," said LeAnne Anderson, RDN, LDN, CDE, Diabetes Program Coordinator at the Polk Education Center. "At least 14% of our fellow East Texans are diagnosed with diabetes. Our center has been a key resource for many of these individuals and their families, whether through our high-quality education sessions, diabetes support groups or community health and wellness events."
The ADA Education Recognition effort, begun in the fall of 1986, is a voluntary process which assures that approved education programs have met the National Standards for Diabetes Self-Management Education Programs. Programs that achieve recognition status have a staff of knowledgeable health professionals who are able to proactively educate patients who have been diagnosed with diabetes to take care of themselves.
According to the American Diabetes Association, there are 29.1 million people or 9.3% of the American population who have diabetes. While an estimated 21 million have been diagnosed, unfortunately 8.1 million people are not aware that they have this disease. Each day more than 3,900 people are diagnosed with diabetes. Many will first learn that they have diabetes when they are treated for one of its life-threatening complications – heart disease and stroke, kidney disease, blindness, nerve disease and amputation.
Self-management education is an essential component of diabetes treatment. Participation in an ADA Recognized program promotes better management of a patient's diabetes treatment regimen. All approved education programs cover the following topics, as needed: diabetes disease process; nutritional management; physical activity; medications; monitoring; preventing, detecting and treating acute or chronic complications; goal setting and problem solving; psychological adjustment; and preconception care, management during pregnancy and gestational management.
"Knowledge is power. Our experienced staff empowers those who have been diagnosed with diabetes with the knowledge and skills to improve their health and quality of life," Anderson said. "The HC Polk Education Center is the only diabetes education program in this area that has met the ADA recognition requirements. This certification allows our staff to continue providing quality diabetes self-management training to those affected by diabetes."
Assuring high quality education for patient self-care is one of the primary goals of the Education Recognition program. Through the support of the health care team and increased knowledge and awareness of diabetes, the patient can assume a major part of the responsibility for his or her diabetes management. Unnecessary hospital admissions and some of the acute and chronic complications of diabetes may be prevented through self-management education.
Publish date:
Tuesday, March 05, 2019
Find a Doctor
---
Looking for a doctor? Perform a quick search by name or browse by specialty.