Quick Response to Stroke Symptoms Saved Lufkin Woman's Life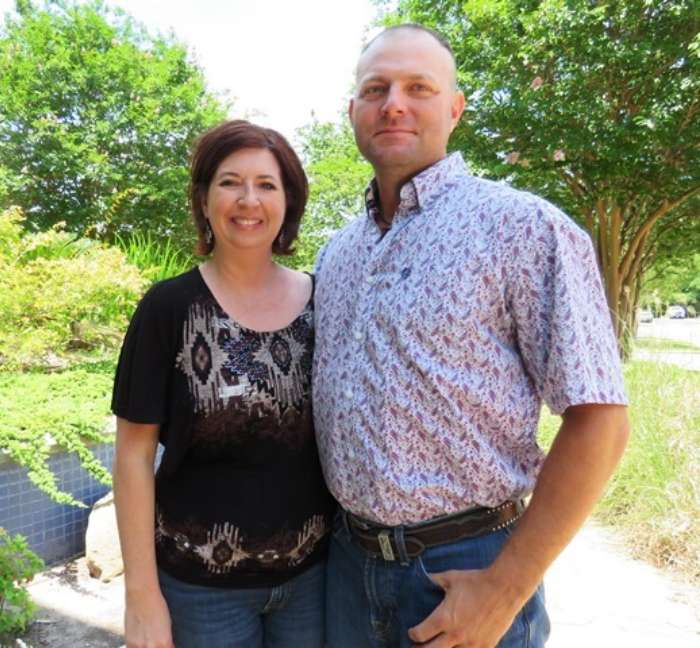 Bridget and Jason Tobias say they've grown closer over the past several months, as Bridget has recovered from her stroke.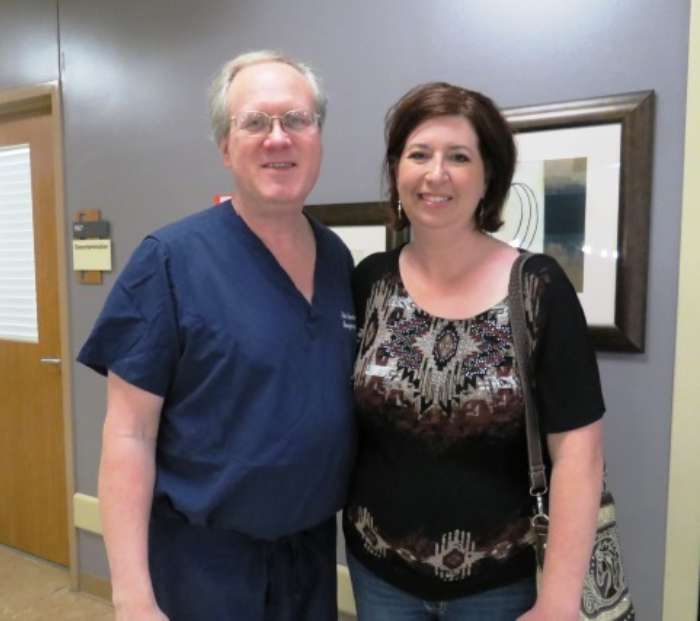 John Sanders, M.D. (left) was the Emergency Medicine physician on-call the day Bridget Tobias (right) was rushed to CHI St. Luke's Health-Memorial Emergency Department. He and his team of highly trained ER nurses got Bridget the help she needed as quickly as possible.
"I watched him day after day study and become a paramedic. Little did I know what he was doing would save my life one day."
Tired and weak from an intense bout of food poisoning, Bridget Tobias, 43, of Lufkin was resting on the couch at home around 2:30 in the afternoon on January 31, 2018. Her husband Jason had just cleaned up from lunch.

"I had taken her plate back into the kitchen and she told me 'My body's cramping up,' and she rolled over. I sat her up, and when I looked at her, she was drooling. I said 'Grin for me real big,' and when she did there was nothing on her left side."

Jason's professional instincts kicked in immediately. A Fire Rescue Captain and Paramedic for the Nacogdoches Fire Department for the past 20-plus years, Jason had seen hundreds of stroke victims riding in the back of his ambulance. He never expected, however, to see one in his own living room. After performing the Cincinnati Pre-Hospital Stroke Scale, which assesses a person for facial drooping, speech abnormalities and arms that drift when raised, he recognized that his wife was experiencing the telltale signs of a stroke, including total paralysis of her left side.

"The last thing I really remember was him telling me he had called an ambulance," Bridget said.

Bridget Tobias, a relatively young and healthy horse rancher and former barrel racer, was brought to St. Luke's Health-Memorial Lufkin – a Certified Primary Stroke Care Center – only a half-hour from the beginning of her symptoms. The hospital's dedicated stroke team was ready and waiting for her. Bridget had a CT scan done within the first minute of arrival, and then immediately received tPA (Tissue Plasminogen Activator), a medication that dissolves blood clots and the gold standard in medical treatment of ischemic strokes. Two specific CT scans confirmed the diagnosis of the Emergency Department physician John Sanders, M.D. and the need to send Bridget for more advanced, interventional neurological treatment, called a Mechanical Thrombectomy. The procedure would be done at CHI Baylor St. Luke's Medical Center, the sister facility of St. Luke's Health-Memorial and a Comprehensive Stroke Center in the Texas Medical District known for its NeuroScience Center. Interventional Neuroradiology at the NeuroScience Center has garnered international recognition for cutting-edge technology in the prevention and treatment of neurovascular diseases, according to the center's website.

"By the time I got [to Houston] she was coming out of recovery. We were still in the tPA window by the time she was getting the Thrombectomy done," Jason said.
For optimal results, tPA must be administered within four hours of symptom onset. Because of Jason's keen awareness of his wife's situation and quick response, Bridget has made a near full recovery.
It was at the beginning of their marriage that Jason received his certification to become a paramedic and then participated in the Fire Academy at Angelina College to become a fulltime firefighter and paramedic.

Twenty years later, "those late nights of studying paid off," Bridget laughed.

"You train and you go through the hours and hours of studying and you get on an ambulance and you make calls to Joe Public's house. You don't know who they are. It's your job," Jason said. "It's what you're supposed to be a professional at and an expert at, and then when it's your own family member, it's a completely different deal. I'm thankful I was sitting there. I could have been on-duty, she could have been there alone with just our daughter. My daughter and I could have been out taking care of the horses."

"If I had gone and lay down, I would have fallen asleep and probably never woken up," Bridget agrees.

After nearly two weeks at CHI Baylor St. Luke's and two interventional surgical procedures, Bridget was admitted to TIRR Rehabilitation, an intensive, inpatient rehabilitation program in Houston.

"At that time, she could move her toes and lift her foot off the bed about an inch," Jason remembers. "I asked her before we left CHI, 'What is your goal?' and she said, 'I want to be me again.' I told her when we go to rehab that this was, hands down, going to be the hardest thing she would ever do in her life, but if you work hard, you'll get there."

The days were long and painful, but during those next three weeks, Bridget learned to walk again. Bridget said it was the most humbling experience of her life. After an especially exhausting physical therapy session, Bridget and Jason were riding the elevator back to her room. She questioned whether or not she would ever return to the life she loved.

"I saw myself in the mirror and thought, 'You're not going anywhere. You can't even move.' A man in a wheelchair came in and zoomed past me. When I looked back at him, he was controlling everything with his mouth, and I said, 'Ok, I can do this.'"

Now, three-and-a-half months later, Bridget has zero deficiencies in walking, talking or cognitive function.

They tell me, 'you're 99% over this,' but this last mile is hard," she said. "I give God all the glory, but I'm also quick to say that if you don't believe in yourself and work your butt off, then forget it. It's a lot of hard work."
She continues physical therapy two days a week to gain strength and mobility in her left arm in hopes that one day she will get back into the saddle to ride alongside her husband and daughter. As a family who has participated for  years in the rodeo circuit, the Tobias' no doubt understand the value of hard work – up each morning to feed their 19 horses and the hours, upon hours of practice that's required of young barrel racers, like their 15-year-old daughter Lucchesse. Bridget said she never imagined after all those years in the arena training her daughter to continue her barrel racing legacy that the coach would become the student.
"Bridget spent 15 years coaching Luc to ride horses and excel, and now's she getting to be Bridget's coach," Jason said. "She's been so strong through all of this."

There are numerous reasons a stroke can happen. Non-modifiable risk factors include advanced age, gender, heredity and race. Other modifiable risk factors like diabetes, hypertension, blood cholesterol levels, smoking, obesity and physical inactivity can also raise a person's likelihood of having a stroke. But Bridget didn't fall into any of these categories. She's young, physically active and eats a gluten-free diet, proof that a stroke can happen to anyone at any time.

"The one thing I try to tell people is you can't say it's not going to happen to you. You have to be prepared, because I never imagined this would happen to me. Never," Bridget said.

And she encourages everyone to learn how to recognize the signs and symptoms and what to do if you see someone who may be suffering from a stroke – always call 9-1-1 first and seek help as soon as possible. Common symptoms include a new or sudden onset of weakness or paralysis, especially on one side of the body, including the face; impaired balance and coordination; speech and language deficits; impaired judgment and thought processes; confusion; and visual changes. 

As a the area's first Certified Primary Stroke Care Center, St. Luke's Health-Memorial's stroke-focused program meets a higher set of standards to help provide better outcomes for stroke care, according to St. Luke's Health-Memorial's Stroke Program Clinical Coordinator Amanda Allen, RN, SCRN. The program includes a dedicated stroke team – including uniquely trained nurses, neurosurgical physicians and neurologists on staff – designated CT technology and 24-hour radiologist services, a dedicated stroke unit within the hospital for optimal recovery, and full service rehabilitation capabilities, both inpatient and outpatient.

While the Tobias' don't know the root cause of her stroke, they say the doctors identified abnormalities in three of her four main blood vessels that lead to the brain. These abnormalities can contribute to blood clot formation. Doctors theorize that because she had spent the several days before vomiting from food poisoning, a clot may have broken lose causing her stroke. Whatever the reason, Bridget says she attributes the quick thinking of her husband and the efficiency and expertise of the staff at St. Luke's Health-Memorial for her amazing recovery.

"I would have never made it, if it hadn't been for [Jason]. My heart knew that he saved me. I felt like if he was there, I was going to be okay," Bridget said. "And everything the ER staff did paid off; all their hard work paid off. They gave me my life back; it's as simple as that, because everybody did their job."

+20163
30080+https://www.chistlukeshealthmemorial.org/news/procedure_at_memorial_medi... Health & Wellness+additions-news+2/2/2012+Procedure at Memorial Medical Center-Livingston provides relief for chronic back pain+

Patients suffering from chronic back pain, caused by arthritis of the spine or degenerative disc disease, may benefit from an updated procedure performed at Memorial Medical Center-Livingston.
The newer titanium Aspen Spinous Process Fixation System can provide long-lasting relief for those suffering from degenerative disc disease, while allowing surgeons to easily access the spine years later, if necessary.
The minimally invasive procedure opens up a small space in the spine to allow the nerve to more freely move. Often times, patients who suffer from arthritis in the spine or degenerative disc disease develop bone calcifications, which can encroach on the nerve space between the vertebras and cause intense pressure on the nerve.
The Aspen Spinous Process Fixation System attaches to either side of the spine and provides rigid fixation while bone grows, fusing the vertebrae together. After the procedure, Orthopedic Surgeon George L. DeLoach, DO, who performs the minimally invasive surgery, said patients can become more mobile and have a higher quality of life.
"This is not an incredibly common procedure, but if we can find the right patient suffering from degenerative disc disease, they are incredibly appreciative to finally get some relief," Dr. DeLoach said.
The device is inserted through a small hole in the back during an inpatient procedure that lasts about 45 minutes.
Certain criteria must be met before a patient qualifies for the procedure. Dr. DeLoach said patients must show symptoms and be diagnosed with degenerative disc disease, which can only be present in one or two discs. Dr. DeLoach said many of his patients are 55 years or older.
Symptoms include dull or aching pain that spreads from the baNew procedure at Memorial Medical Center-Livingston provides long-lasting relief for chronic back pain sufferersNew procedure at Memorial Medical Center-Livingston provides long-lasting relief for chronic back pain sufferersck to the buttocks and continues to radiate down the legs; numbness or tingling in the buttocks and/or legs; pain heightened by standing or walking for an extended period of time; and overall weakness or decrease in stamina. Many of these symptoms can be temporarily alleviated by sitting, leaning forward, reclining or rest.
If pain relieving medications and steroid injections cease to provide relief from the pain, Dr. DeLoach said this may be an intermediary step before patients contemplate major back surgery.
"This device was developed as an adjunct for other procedures, but what they found was a lot of people didn't require a major surgery to stabilize the spine after having the Aspen device surgically implanted," Dr. DeLoach said. "You can now open up that space for the nerve to move. It's just a millimeter or two, but it makes all the difference for those suffering from chronic lower back pain."
Because of the minimal affects of the Aspen device on the spine and surrounding tissue, patients needing additional surgery in the future can do so with ease. According to Dr. DeLoach, it is important that devices, such as the Aspen Spinous Process Fixation System, do not interfere with more extensive surgeries that may be necessary later on.
For more information about the Aspen device and procedure, contact Dr. DeLoach at 936-327-9222.
Cutline: Orthopedic Surgeon George L. DeLoach, DO displays the Aspen Spinous Process Fixation System in his Livingston office. The inpatient procedure is minimally invasive and can alleviate pressure on the nerves in the spine.
+20163
30081+https://www.chistlukeshealthmemorial.org/news/power_of_pink_video_undefe... Health & Wellness+additions-news+7/17/2013+Power of Pink! Video "Undefeated" Designated Silver Winner+
The winners of the National Aster Awards for Excellence in Medical Marketing have been announced and Memorial Medical Center – Lufkin was once again on the list of recipients.  The Power of Pink! special video project "Undefeated" was designated as  a Silver Winner.
The Aster Awards, one of the largest national competitions of its kind, is hosted by Marketing Healthcare Today Magazine and Creative Images, Inc. This elite program recognized outstanding healthcare professionals for excellence in their advertising/marketing efforts for the calendar year 2012.
Lindsey Mott, Community Relations Specialist at Memorial, and Randy Cadwell, Senior Video Production Specialist with the City of Lufkin, were recognized as a Silver Winner for their work on "Undefeated," a special video project for Power of Pink!  The video highlighted groups from the Lufkin community dancing to the song "Undefeated" by Jason Darulo to help promote breast cancer awareness.  The winning video can be seen on the Memorial website, https://www.memorialhealth.org.
"The talent of this year's healthcare marketing professionals continues to be at an all time high.  The 2013 Aster Awards program contained some of the best advertising arguably in the world.  The judge's expectations were again surpassed," said Melinda Lucas, Aster Awards Program Coordinator.

The 2013 Aster Awards received nearly 3,000 entries from across the United States as well as Canada and South America.  All entries are judged by industry experts and are scored on multiple criteria with a possibility of 100 total points. Silver awards represent the top 12% in the nation with scores of 90 to 94.  Participant's entries competed against similar-sized organizations in their specific groups and categories. 
All winners are posted on the Aster Awards website (https://www.AsterAwards.com), as well as published in Marketing Healthcare Today, a national healthcare marketing magazine.
Cutline:  The 2012 Power of Pink! special video project was recently designated as a Silver Winner in the National Aster Awards for Excellence in Medical Marketing.  Randy Cadwell, Senior Video Production Specialist with the City of Lufkin (left) and Lindsey Mott, Community Relations Specialist at Memorial (right), created the video "Undefeated" showcasing different groups from the community to help spread breast cancer awareness.  The winning video can be seen on the Memorial website, https://www.memorialhealth.org.
+20163
30082+https://www.chistlukeshealthmemorial.org/news/power-of-pink+https://www.... Health & Wellness+additions-news+6/27/2020+Power of Pink+

Power of Pink! is an educational forum which raises awareness about women and breast cancer in a fun and inspirational atmosphere. The Power of Pink! Luncheon, began nearly three decades ago as the Jan Moore Memorial Lecture. Ms. Moore lost her battle to breast cancer in 1993, but her courage and determination won the hearts of her friends, family, and hospital leaders. As a result those who knew her best wanted to help inform others about breast cancer. What began as a handful of women discussing breast cancer over sack lunches in the hall of St. Luke's Health-Memorial has grown to a luncheon that caters to more than 1200 women in Deep East Texas.
This year's events will be:
LIVINGSTON
Tuesday, October 13, 2020
11:30 a.m. to 1 p.m.
Polk County Commerce Center
LUFKIN
Thursday, October 15, 2020
11:30 a.m. to 1 p.m.
Pitser Garrison Convention Center
Power of Pink! is presented by St. Luke's Health-Memorial in partnership with Temple Cancer Center where Dr. Sid Roberts is the Medical Director. The event features both hilarious and heartwarming moments that entertain, inspire and provide educational awareness.
Art Bra Contest
As one of the much anticipated portions of the event, the 12th Annual Art Bra Exhibit will showcase extravagant bras as various members of the community "walk the runway" modeling these uniquely creative designs. A delicious lunch, door prizes and raffle prizes are also part of the annual luncheons.
Speaker
Merlyna Mathieu Valentine is a national speaker, author, consultant, trainer, and owner of Merlyna Valentine Consulting, LLC. As a well-respected educator for over thirty years, Ms. Valentine served as a teacher, principal, and executive director in a highly successful school district. Her transformational leadership as a school principal resulted in her school's recognition as a "Top Gains" school. She received numerous awards and commendations such as teacher of the year, principal of the year, and was chosen as the University of New Orleans College of Education and Human Development Alumna of the Year.
Ms. Valentine was featured in several news segments and articles including a spotlight in Ebony Magazine. Internationally distinguished presenter, Dr. Harry K. Wong, showcased her school and leadership in an article on his website and invited Merlyna to present with him. In honor of her story of survival, courage, and hope, Ms. Valentine's story was featured on the Today Show.
Against overwhelming odds, Ms. Valentine overcame a medical tragedy. Her life was forever changed in 2007 as she was given a less than 10% chance of surviving sepsis. Instead of focusing on what happened and what's missing from life, she chooses to embrace this new path with a positive attitude. She accepts no excuses and models this in her daily life. Ms. Valentine is living proof that ordinary people do extraordinary things every day.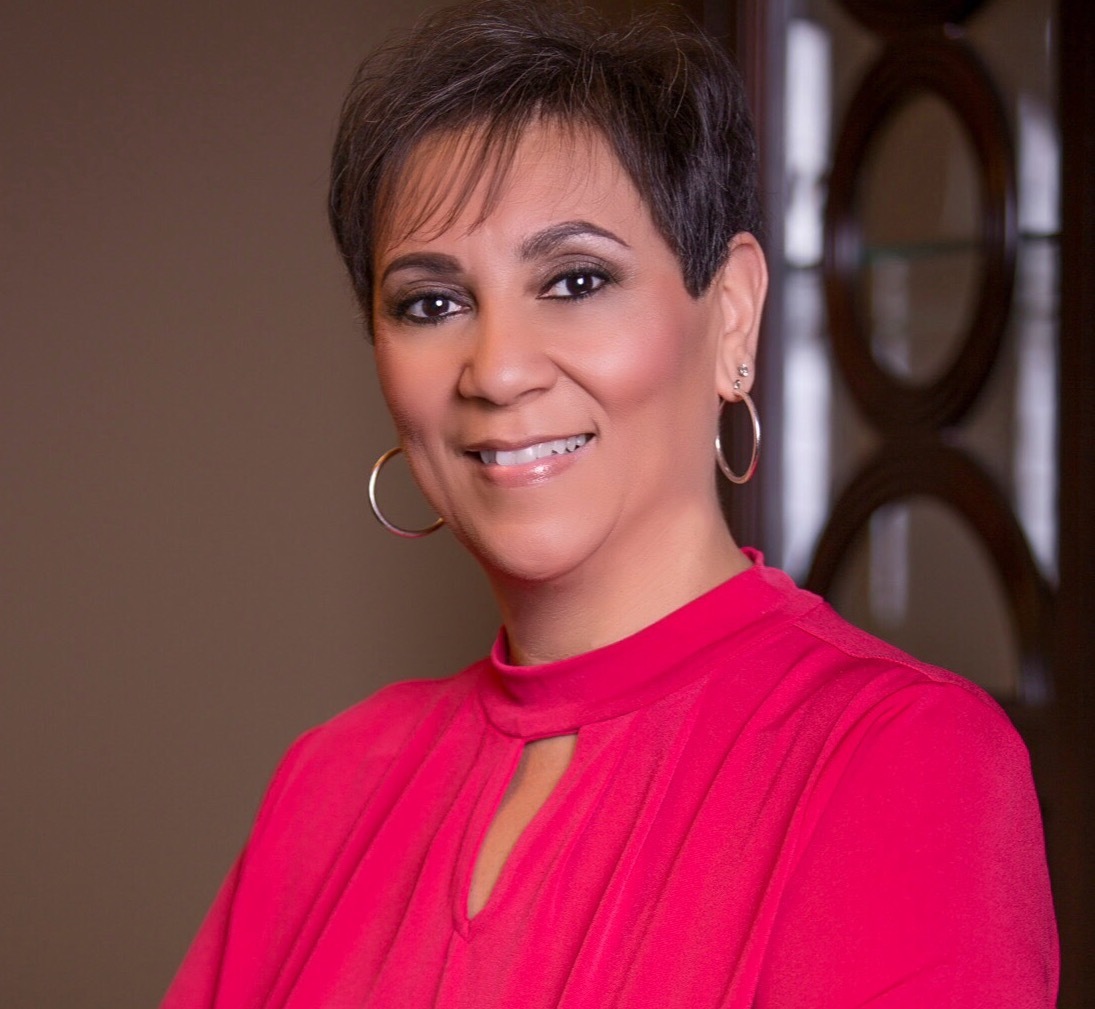 Publish date:
Tuesday, May 22, 2018
Find a Doctor
---
Looking for a doctor? Perform a quick search by name or browse by specialty.