Rehab Receives a Lift from Volunteers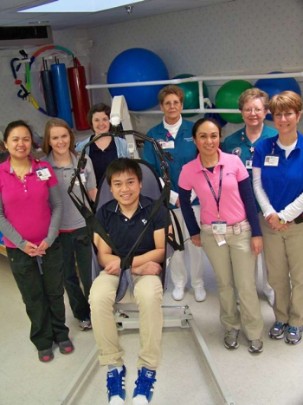 The Rehabilitation Unit at Memorial Medical Center – Lufkin is the recent recipient of a new hoyer lift purchased by the Memorial Volunteer Auxiliary.  Joanna Serafica, PT; Amy Moorhead, DPT; Angela Trial COTA; Miguel Cruz, PT; Jeannie Owens, Volunteer; Myhr Go, OTR; Gloria Gregory, President of Volunteer Auxiliary and Elisa Harris, PT, are shown with the new lift.  The lift will aid therapists in transferring patients who are too weak to stand or are too unsafe to transfer from beds, chairs, toilets and other surfaces where people sit or lay.  This will help in preventing patient falls and injuries.  The lift will also be used to help train family members on how to safely move patients once they are home.
Publish date:
Friday, January 31, 2014
Find a Doctor
---
Looking for a doctor? Perform a quick search by name or browse by specialty.