Rep. Trent Ashby Learns More about Rehabilitation Services at St. Luke's Health-Memorial Lufkin

Following a disabling disease or traumatic injury, rehabilitation is a proven method of restoring patients to their optimal health and productivity. Specialized therapy can minimize physical or cognitive disabilities. And rehabilitation is the single most effective treatment available to those with brain injury, according to the Brain Injury Association of America. However, numerous policy changes in the state of Texas have created barriers for patients to receive necessary inpatient and/or outpatient treatment. 
In celebration of National Rehabilitation Awareness Week, held September 17-23, St. Luke's Health-Memorial welcomed State Rep. Trent Ashby (R) for a tour of the facilities and to educate him on the benefits of the services offered at the hospital. 
"We see patients with all kind of diagnoses from stroke victims to those with hip fractures and broken bones to post-surgical patients and traumatic brain injuries," said Jennifer Kalmer, M.D., Physical Medicine and Rehabilitation specialist and Medical Director of the Inpatient Rehabilitation Unit.
Authorization for more lengthy treatments can be cumbersome, higher patient acuity and increased time restraints create numerous challenges in getting patients the rehabilitation they need, Dr. Kalmer said. The Rehabilitation Services team invited Rep. Ashby to see what services St. Luke's Health provides to help him make more informed decisions in Austin.
"We are so excited to have Mr. Ashby with us to celebrate National Rehabilitation Awareness Week," Dr. Jennifer Kalmer said. "It is so important for him and our community to understand how we are helping our patients restore their functional mobility and have a higher quality of life."
St. Luke's Health-Memorial provides multiple aspects of rehabilitation, including an intensive inpatient rehabilitation unit, inpatient therapy and post-surgical treatment specifically for orthopedic and spine patients, outpatient therapy and outpatient cardiac rehabilitation. Over the past year, approximately 6,600 patients were treated in one of these settings.
The acute care inpatient therapy services staff provides physical therapy, occupational therapy, and speech/language pathology in the patient's hospital room.
The 12-bed Inpatient Rehabilitation Unit within the Lufkin hospital includes intensive therapy for three hours a day, five days a week. Using a coordinated team approach, individualized assessment, diagnosis and treatment is provided within the unit that includes a large gym area. 
The St. Luke's Health-Memorial Ortho/Spine Post-Surgical Unit was created to achieve maximum quality patient care for those recovering from surgery. The primary goal of this unit is to provide intense acute therapy, utilizing the gym, stairs, ADL friendly bathrooms/kitchen, and outside surfaces to help patients return home as independently as possible. 
The Memorial Outpatient Therapy Center, located next door to the hospital, specializes in occupational, physical and speech therapy for adults and children.
The Cardiac Rehabilitation program, located within the Heart Institute of East Texas, focuses specifically on patients recovering from a cardiovascular event, such as surgery or a heart attack.
Pete Peterson, a Lufkin retiree, is now into his second week in the rehabilitation unit after falling and breaking his leg and hip. His wife Jan told Rep. Ashby that the team approach displayed within the hospital has made for a smooth recovery.
"Everyone from administration, to the rehab nurses, the occupational therapists, and the ladies that mop the floors and change the bedding, they are all awesome," Mrs. Peterson said.
Rep. Ashby said he learned a lot during his visit.
"This was a 'look and listen' tour for me to better understand the services St. Luke's Health-Memorial is providing our region," Rep. Ashby said. "When the opportunity was presented to me to learn more, I knew I had to come see what we had here."
Since 1976, National Rehabilitation Awareness Week has been celebrated annually across the United States. This observance, falling on the third week of every September, promotes the value of rehabilitation, highlights the capabilities of people with disabilities, salutes the professionals who provide services to this community, and renews the commitment to meeting the needs of people with disabilities, according to the Brain Injury Association of America.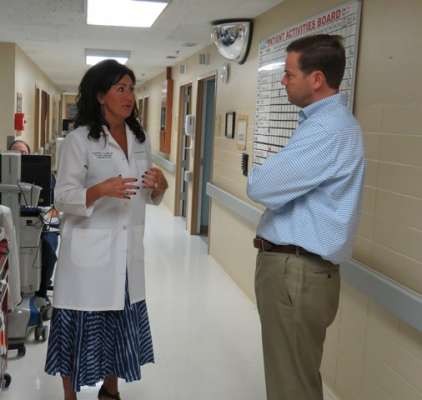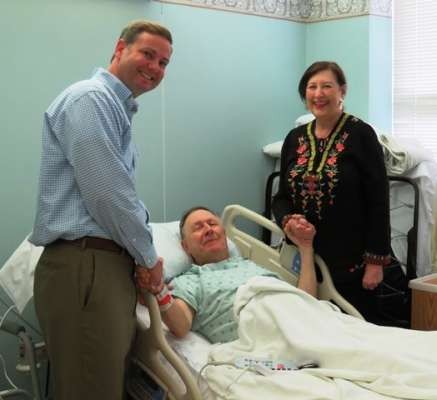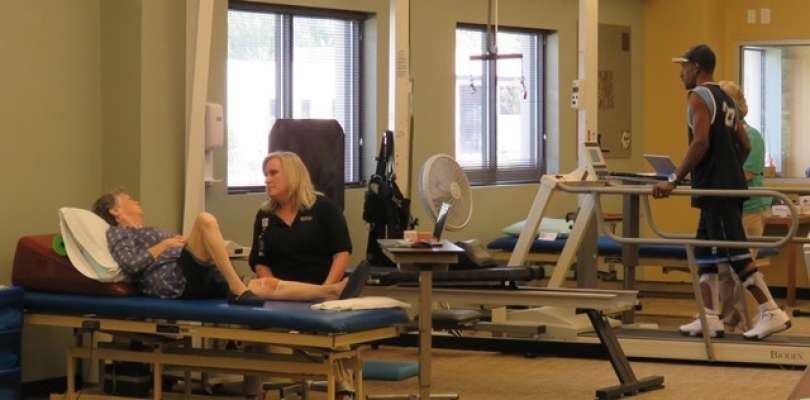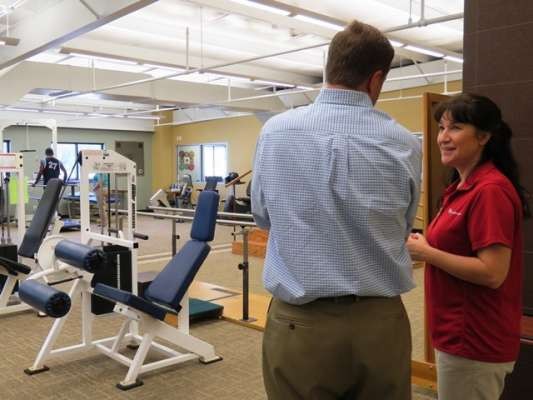 Publish date:
Wednesday, September 20, 2017
Find a Doctor
---
Looking for a doctor? Perform a quick search by name or browse by specialty.