Respiratory Therapist Participates in Disaster Response Training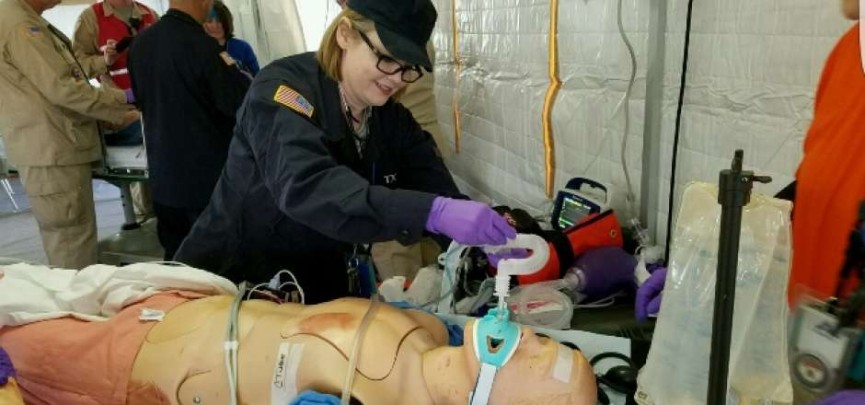 When disaster strikes, St. Luke's Health-Memorial Livingston and its employees recognizes the critical importance of being prepared. Recently, a Respiratory Therapist from the hospital traveled to Anniston, Ala. to train at the Center for Domestic Preparedness (CDP), which is operated by the United States Department of Homeland Security's Federal Emergency Management Agency.
Kelly Hamilton, who has worked as a Respiratory Therapist at St. Luke's Health since 2005, participated in the Integrated Capstone Event (I.C.E.) training program over the course of five days. Through the program she trained in dealing with mass casualty events by prioritizing the needs of patients both physically, mentally, and emotionally; utilizing supplies wisely and reordering as soon as possible; computer documentation; and communicating with several other organizations who also participated to make the event as lifelike as possible.
 "It was both an educational and enjoyable experience," said Kelly Hamilton, Respiratory Therapist. "The instructors were well prepared and challenged everyone to step out of their comfort zones and learn something new.  I feel that this type of training benefits each of us and allows us to be better prepared to care for those in need when disaster strikes."
Most of the course involved hands-on operations practice and response to simulated events. Participants performed environmental health responder tasks while wearing appropriate personal protective equipment.
"On the last day of training, we worked with all the other organizations there to participate in a mass casualty drill. The program provided live actors and computer-simulated mannequins to serve as patients," Hamilton said.  
There were approximately 50 people in Hamilton's training group which consisted of medical staff, logistics, communications support, and administrative staff from around the country.
"I wanted to go because I love to learn and find ways to be better at my job," Hamilton. "I would encourage everyone to take advantage of opportunities like this and become the best at what we do here locally and nationally."
Publish date:
Tuesday, May 16, 2017
Find a Doctor
---
Looking for a doctor? Perform a quick search by name or browse by specialty.