San Augustine Graduates 5 from Sacred Vocation Program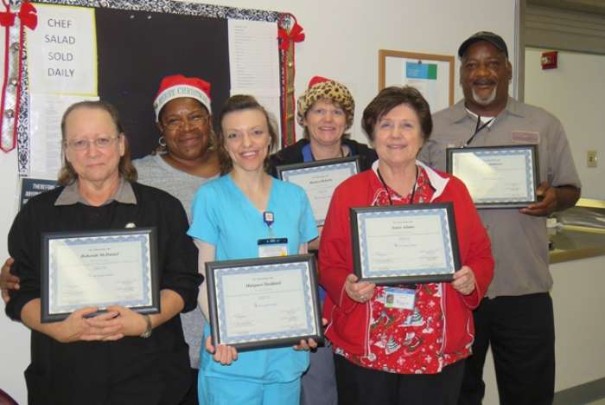 Caring for sick and dying patients is more than just a job to the staff at St. Luke's Health-Memorial San Augustine. It is a sacred calling full of compassion and talent.
This year, Memorial implemented a program through Catholic Health Initiatives called "Sacred Vocation," which brings together a small group of employees from different departments to focus on creating a sacred workplace and enhancing the overall patient experience. Through the program, employees discuss their God-given gifts and talents and how they can use those abilities to create a more holy and healing environment.
San Augustine recently graduated five employees, including Janet Adams, Pharmacy; Roy Johnson, Maintenance; Deborah McDaniel, Housekeeping; Monica Roberts, Respiratory; and Margaret Stoddard, Lab. The facilitators were Vickie Cooper, Dietary; and Tina Alexander-Sellers, Director of Community Outreach.
As part of the program, the group developed an oath which stated:
"I will:
Come to work with a positive attitude that fosters a cheerful environment.
Work as a team member.
Be open and honest with my patients.
Listen with an open heart and mind to understand patient needs.
Honor every patient with dignity and respect."
This is the second class in San Augustine participants to graduate from the Sacred Vocation program, bringing the total to nearly 100 employees in the St. Luke's Health-Memorial system. Memorial is part of Catholic Health Initiatives (CHI), a national nonprofit health system based in Englewood, Colorado.
"We want our employees to recognize that they play a critical role in the healing process of every patient and guest that comes to our hospital," said Tina Alexander-Sellers, Director of Community Outreach at St. Luke's Health-Memorial. "This program helps participants see that their work is not just a job but a sacred vocation."
Publish date:
Thursday, December 29, 2016
Find a Doctor
---
Looking for a doctor? Perform a quick search by name or browse by specialty.