Saving Landfill Space with New Recycling Program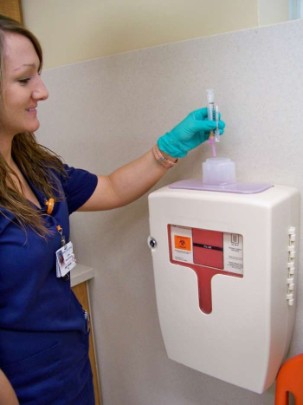 Memorial Health System of East Texas is reducing carbon emissions by switching to a proactive service utilizing reusable sharps containers that prevent a significant amount of cardboard and plastic from going to the landfill each year. The hospital is launching the Sharps Management Service using BioSystems reusable containers by Stericycle (NASDAQ: SRCL). The service keeps an average of 600 disposable sharps containers from going to the landfill for each reusable container used. 
U.S. hospitals generate 6,600 tons of waste each day1.  Whether hospitals choose to use disposable or reusable sharps containers, their regulated medical waste must be properly segregated and disposed for environmental and compliance reasons. Disposable containers end up in landfills, contributing to the sizable carbon footprint the healthcare industry makes.
A fall 2009 study by the University of Chicago Hospitals was published in JAMA2 and found that the American healthcare sector accounts for 8% of the U.S. carbon footprint. The analysis found that hospitals are by far the largest contributor of carbon emissions in the healthcare sector, and the second most energy intensive industry3.   The EPA is upping its efforts to reduce carbon emissions across the U.S. as part of its goal to reduce greenhouse gas emissions 17% by 2012 from its 2009 baseline.
Many hospitals are beginning to explore environmental best practices such as reducing waste and implementing sustainable waste management programs to minimize their footprints.  A 2009 survey by Practice Greenhealth, with more than 700 hospital members, found 64% were implementing medical waste reduction programs.  Yet few tools exist to specifically help measure a hospital's environmental impact.  The Stericycle Carbon Footprint Estimator4 tool is designed to help U.S. hospitals determine the amount of plastic, cardboard and resulting CO2 emissions they are able to keep out of the environment by switching a healthcare facility or hospital system from disposable sharps containers to reusable containers.
In one year using the system, Memorial Medical Center – Lufkin plans to divert 7,840pounds of CO2 from 13,212pounds of plastic and 1,024pounds of cardboard. This carbon diversion is the equivalent to not burning 404 gallons of gas or 148 home BBQ propane cylinders.  Memorial as a whole system which includes hospitals in Lufkin, Livingston and San Augustine will divert a total of 19,064 pounds of CO2 from 32,120 pounds of plastic and 2,501 pounds of cardboard.  This is the equivalent of 982gallons of gas or 360 home BBQ propane cylinders4.
"While the transition to the reusable sharps container will have a positive impact on the environment and our community, it also will have significant financial value," said Michael Rankin, Sodexo General Manager at Memorial Health System of East Texas.  "This initiative will save money which can be used toward other patient care items in the hospital."
Since 1986, U.S. hospitals using the Stericycle Sharps Management System Bio Systems reusable containers have kept more than 85 million disposable containers out of landfills4.
1 Zimmerman, G. "The prescription for green health care facilities." Building Operating Management, June 2009.
2 The University Chicago Medical Center                                               
3 Schwartz, Judith D. "Putting Health Care on an Energy Diet." TIME, November 10, 2008.
Publish date:
Friday, November 05, 2010
Find a Doctor
---
Looking for a doctor? Perform a quick search by name or browse by specialty.