Shorter Wait Times Happening for Patients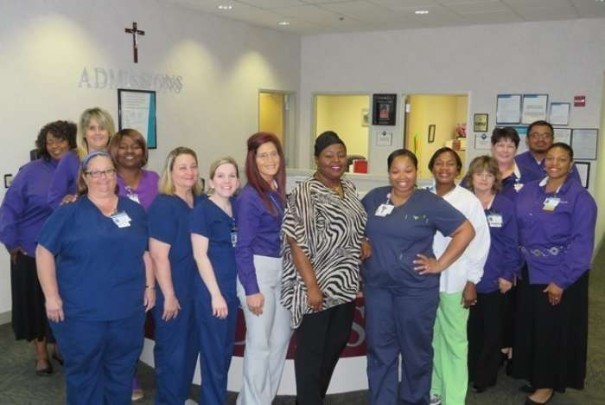 From the minute a patient steps through the doors of St. Luke's Health Memorial, it's our job to make sure each and every one has a pleasant experience. The hospital can be a scary place – one full of unknowns and a hurry-up-and-wait mentality that can add to the uncertainty and anxiety felt by some.
In order to ease the minds of patients preparing to have surgery, the Admission and Day Surgery Pre-Admission departments are working together to reduce wait times and make life a little easier for everyone.
"By streamlining a few of our processes and enhancing our communication, we have tremendously sped up the patient's wait time from hours to minutes," said Hebah Jabbour, Patient Access Supervisor for Outpatient Admissions. "It's been great from our standpoint, and we know our patients are really pleased."
In some cases, the team has reduced wait times by 85 percent.
When a patient is scheduled for surgery, the pre-admission team prepares consent forms and instructions specific to each type of procedure, as well as the patient's medical history, X-rays, laboratory results and the physician's orders. This takes time. However, if all that paperwork can all be prepared prior to the patient's arrival, it's more convenient for everyone involved.
"We like to meet with our patients face-to-face before their procedure, go over any questions or concerns they have, and fill out all the necessary paperwork; so when it's time for their surgery, there's nothing more they need to worry about," said Melony Wilkerson, RN, BSN, Nurse Manager for Ambulatory Services.
The majority of patients who come through the Admission process don't know they can schedule a pre-admission appointment. Many have been sitting at their doctor's office, come straight to the hospital and are tired of waiting. Jabbour and Wilkerson said a lot of that down time could be eliminated by making an appointment.
"That way their accounts have been established and the necessary paperwork is ready," Wilkerson said.
Oftentimes, surgery is unexpected, urgent and there's no time to schedule an appointment.
"We understand that, of course. That's the nature of emergent health care," Wilkerson said. "We're going to have walk-in patients. But for those who know they're having surgery ahead of time, make the appointment and save yourself some real time."
Patients are taking notice of the shorter wait times, and that's what the entire Admissions team hoped to accomplish.
"We just want to make the overall experience better for the patient," Jabbour said. "Everyone values their time, and we want our patients to know that we value their time, as well. It takes teamwork, but ultimately that's what we're here for – the patient. We want them to have the best experience possible while they are with us."
Publish date:
Thursday, June 16, 2016
Find a Doctor
---
Looking for a doctor? Perform a quick search by name or browse by specialty.