State of the Art Cryoablation Procedure Available for Abnormal Heart Rhythms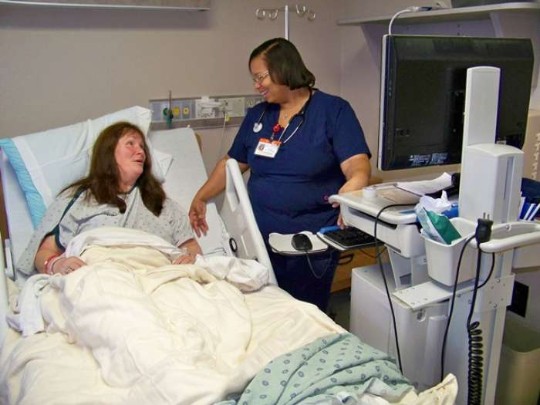 A more advanced method of correcting cardiac arrhythmias is being performed at St. Luke's Health Memorial Lufkin utilizing one of nature's own anesthetic properties – freezing temperatures.
Lufkin based  Electrophysiologist Vivek Mangla, M.D. introduced the cryoablation procedure to the East Texas area in order to treat and freeze problem tissue in the heart which then normalizes the distribution of the heart's electrical impulses. Tiny circles of heart tissue are frozen during the procedure which block the abnormal electrical activity in the heart and restore normal rhythms. St. Luke's Health Memorial invested more than $200,000 on new equipment for the procedure to be performed.
"Normally we correct cardiac arrhythmias by cauterizing, or heating up, the abnormal tissue around the heart," Dr. Mangla said. "Heating can cause more scarring of the tissue. With this new equipment, we are inserting a balloon in the heart to freeze the tissue and treat abnormal areas causing arrhythmias."
Cardiac arrhythmias mean the heart has an abnormal rhythm which can be felt as a palpitation, a skipped beat or a fluttering sensation in the chest or neck, according to the American Heart Association. Serious symptoms, such as fatigue, dizziness, lightheadedness, fainting, chest pain, shortness of breath, rapid heartbeat or even stroke and sudden cardiac arrest, can develop if not treated in time.
Stephanie Stanley, 58, of San Augustine, recently underwent the revolutionary procedure at St. Luke's Health Memorial Lufkin. Stanley said she was diagnosed one year ago with atrial fibrillation, the most common type of cardiac arrhythmia. She suffered chest pain, shortness of breath and a lack of energy.
After staying in the hospital just one night after the cryoablation procedure, Dr. Mangla said Stanley was ready to go home.
"I went in for my follow up visit a week later, and my EKG showed that my heart is doing exactly what it's supposed to be doing," Stanley said. "It's a good feeling. A year ago, I stayed tired. I had no energy. Now, my energy is back, and I'm back to riding my exercise bicycle. I didn't know I was feeling that bad in the first place, but now I say, 'Wow!' I really do feel great."
Until now, the cryoablation procedure could only be performed in larger metropolitan areas, but due to St. Luke's Health Memorial's commitment to creating healthier communities, the equipment was made available to Dr. Mangla and his team in Lufkin.
"Cryoablation appears to be a more effective and safer way to treat some cardiac arrhythmias," Dr. Mangla said.
Cryoablation results in more stability, less potential damage to critical structures near the heart and a minimized risk of perforation or any scab formation around the heated area. Cooling tissue is also a more controllable method to treat arrhythmic tissue.
For more information about the cryoablation procedure, call Dr. Mangla at 936-639-0988. His office is located at 1105 West Frank Avenue, Suite 110, which is located in the Medical Arts Pavilion on the St. Luke's Health Memorial Lufkin campus.
Publish date:
Tuesday, December 16, 2014
Find a Doctor
---
Looking for a doctor? Perform a quick search by name or browse by specialty.