Stroke Program at St. Luke's Health Earns Quality Award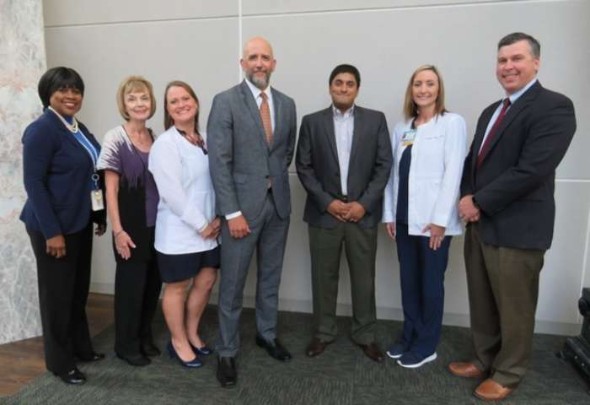 Pictured from left to right: Tina Alexander-Sellers, Market Director of Community Outreach; Anita Gottlieb, Market Director of Quality; Stacy Garcia, Market Administrator of Service Lines; Monte Bostwick, Market President & CEO; Sunil Cherry, M.D., Neurologist and Chief of Neurology; Amanda Allen, Stroke Program Clinical Coordinator; and Eric Robinson, Market COO & Lufkin President.
Every 40 seconds someone in the U.S. suffers a stroke. Nearly 795,000 people suffer a new or recurrent stroke each year. Deep East Texas is situated in the middle of the "Stroke Belt," with a stroke mortality rate up to 4 times the national average. These startling statistics emphasize the need for high quality stroke care.
Understanding the importance of that need, St. Luke's Health-Memorial Lufkin was recognized by the American Heart Association/American Stroke Association with the Get With The Guidelines®-Stroke Silver Plus Quality Achievement Award. The award recognizes the hospital's commitment to ensuring stroke patients receive the most appropriate treatment according to nationally recognized, research-based guidelines based on the latest scientific evidence.
During a designated period of time, St. Luke's Health's stroke program met specific quality achievement measures for the diagnosis and treatment of stroke patients at a set level in order to earn the award. These measures include evaluation of the proper use of medications and other stroke treatments aligned with the most up-to-date, evidence-based guidelines with the goal of speeding recovery and reducing death and disability for stroke patients. Before discharge, patients also receive education on how to manage their health, schedule a follow-up visit, as well as learn about other care transition interventions.

"CHI St. Luke's Health-Memorial Lufkin has been a proud member of the American Heart Association's Get With the Guidelines-Stoke initiative for many years because we are dedicated to improving the quality of care for our stroke patients," said Sunil Cherry, M.D., Chief of Neurology at St. Luke's Health-Memorial. "The tools and resources provided through this initiative help us track and measure our success in meeting evidenced-based clinical guidelines developed to improve patient outcomes."

St. Luke's Health additionally received the association's Target: Stroke Elite Plus) award. To qualify for this recognition, hospitals must meet quality measures developed to reduce the time between the patient's arrival at the hospital and treatment with the clot-buster tissue plasminogen activator, or tPA, the only drug approved by the U.S. Food and Drug Administration to treat ischemic stroke.

According to the American Heart Association/American Stroke Association, stroke is the No. 5 cause of death and a leading cause of adult disability in the United States. 
Publish date:
Thursday, June 14, 2018
Find a Doctor
---
Looking for a doctor? Perform a quick search by name or browse by specialty.