Stroke Program Earns Re-Certification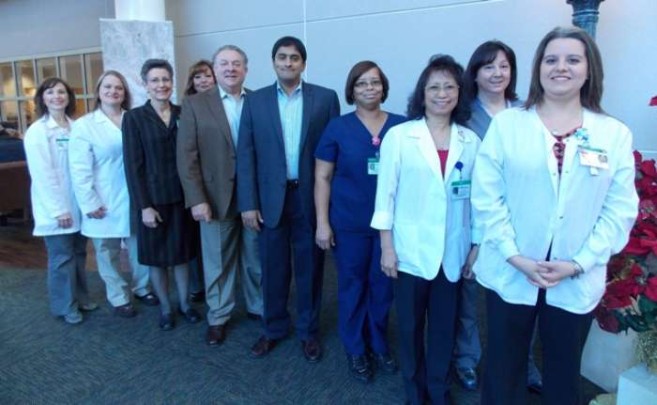 There is an urgent and continuing need for a high level of stroke care and ongoing education right here in the heart of what is considered the "Stroke Belt." High blood pressure, cigarette smoking, obesity, high cholesterol and physical inactivity continue to plague this area, leading to an overwhelming reoccurrence of stroke. Memorial proved its desire to provide the highest quality of stroke care for patients by once again earning the National Gold Seal of Approval in Stroke Care from The Joint Commission.
Memorial is the first and only Joint Commission Certified Primary Stroke Center in Lufkin.
The National Gold Seal of Approval for Stroke Care is a result of the East Texas Stroke Initiative, an ongoing partnership between Memorial and The Methodist Hospital in Houston. This partnership, funded by the T.L.L. Temple Foundation, was created to decrease the number of strokes in East Texas through a widespread community education program and advanced treatment modalities, while helping to restore quality of life for those who have suffered a stroke.
The certification demonstrates that Memorial's stroke program meets critical elements of performance to achieve long-term success in improving outcomes for stroke patients.
Earlier this year, the Joint Commission evaluated the current stroke program for compliance with requirements for The Joint Commission's Disease-Specific Care Certification program, which directly affects patient outcomes. Following the rigorous on-site review, it was determined that Memorial continued to meet the strict criteria maintained by the Joint Commission.
In achieving Joint Commission advanced certification, Memorial Medical Center-Lufkin has demonstrated its commitment to the highest level of care for its stroke patients," says Jean Range, M.S., R.N., C.P.H.Q. executive director, Disease-Specific Care Certification, The Joint Commission. "Certification is a voluntary process, and The Joint Commission commends Memorial for successfully undertaking this challenge to elevate its standard of care and instill confidence in the community it serves."
Memorial first received the National Gold Seal of Approval for Stroke Care in 2010 after 18 months of training and education. East Texas Stroke Initiative coordinator Suzanne Monsour said some consider the re-certification process more difficult due to rising expectations of performance. The voluntary certification process occurs every two years.
"Joint Commission certification is important because it shows the community that Memorial's care for the stroke patient is of the highest quality, and is outcomes driven," Monsour said. "We abide by the "best practices" recommended by the American Stroke Association, American College of Neurology, National Institute of Neurological Disorders and Stroke, American College of Emergency Physicians, and many other societies and experts in the field of stroke. These 'best practices' comprise the criteria required by the Joint Commission."
The standards set by the Joint Commission – known throughout the world for its mission to continuously improve health care for the public – help organizations establish a consistent approach to care, reducing the risk of error.
Publish date:
Wednesday, December 19, 2012
Find a Doctor
---
Looking for a doctor? Perform a quick search by name or browse by specialty.