Supportive Art for Breast Cancer Awareness
Decorated with items like wine corks, duck calls, pine cones, feathers and monkeys, bras for the annual Art Bra Contest have continuously added fun and flair to the Power of Pink luncheon.  For the last six years, participants in the Art Bra Contest have promoted breast cancer awareness and the importance of screening with their creativity and passion for the cause.
"This part of Power of Pink adds a fun aspect to a very serious discussion," said Lindsey Mott, Senior Marketing Coordinator at St. Luke's Health Memorial and Coordinator of Power of Pink! "Breast cancer is a serious issue, but the Art Bra Contest is a different and fun way to promote awareness of this dreaded disease."
The Art Bras have ranged from simple rhinestones and feathers to bras with wine corks, flashing lights and duck calls.  Past standouts include "Flashing for a Cure," "Breast Commander," "Put a Cork in Cancer" and "Treasure Your Chest."  While participants are encouraged to get creative, there are a few limitations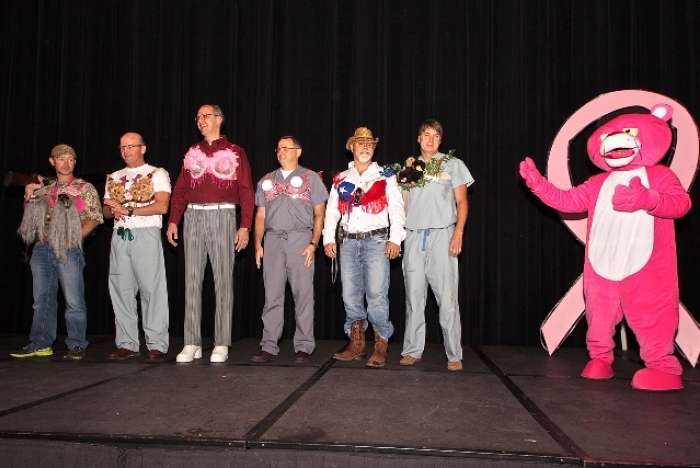 that apply.  The bras need to be wearable, they should fit on a hanger, and of course, be original and in good taste.  
The Art Bra was created years ago when a woman, who lost her mother to breast cancer, found buttons and trinkets among her mother's belongings.  She refused to throw them out and instead found a creative way to remember her mother and to help others.  The daughter sewed those buttons and trinkets onto a bra and the rest is history.   
The Art Bra Contest has become one of the most anticipated portions of the Power of Pink luncheon.  Whether the winning bra is modeled by breast cancer survivors, male leaders in the community or physicians, each year is a surprise to see who will walk the runway in these outrageous bras. 
The community is encouraged to cast ballots for the "People's Choice" award at CHIStLukesHealthMemorial.org. "Celebrity judges" will select the 1st, 2nd and 3rd place winners.  All bras will be on display during the luncheon, and can be seen in the main lobby at St. Luke's Health Memorial Lufkin the week following the luncheon.
Participation in the 7th Annual Art Bra Contest is easy – just design and decorate a bra.  Entry forms are available in Livingston at the Livingston Polk County Chamber of Commerce and in Lufkin at the Temple Cancer Center, Abeldt's Gaslight Pharmacy or online at CHIStLukesHealthMemorial.org/news/power-of-pink.  The completed bra and entry form must be dropped off in Livingston at the Chamber of Commerce before 5 p.m. Thursday, October 1 or at either physical location in Lufkin before 5 p.m. Friday, October 2. 
The public can vote for the "People's Choice" winner online at CHIStLukesHealthMemorial.org Monday, October 5 through Sunday, October 10.
For more information, contact Lindsey Mott at 936-639-7613 or [email protected].
The Power of Pink luncheon will be held in Livingstin Tuesday, October 13 at the Polk County Commerce Center, 11:30 am - 1 pm and in Lufkin Thursday, October 15 at the Lufkin Pitser Garrison Convention Center, 11:30 am – 1pm.  Tickets can be purchased in Livingston at the Memorial Gift Shop, Sheryl's Flowers and Gifts, My Place Eatery or online at https://www.chistlukeshealthmemorial.org/news/power-of-pink. Lufkin tickets can be purchased at Alene's Florist, Studio 319, Temple Cancer Center or online at https://www.chistlukeshealthmemorial.org/news/power-of-pink.
Publish date:
Wednesday, September 09, 2015
Find a Doctor
---
Looking for a doctor? Perform a quick search by name or browse by specialty.