Temple Cancer Center -- Six Decades of Service to East Texas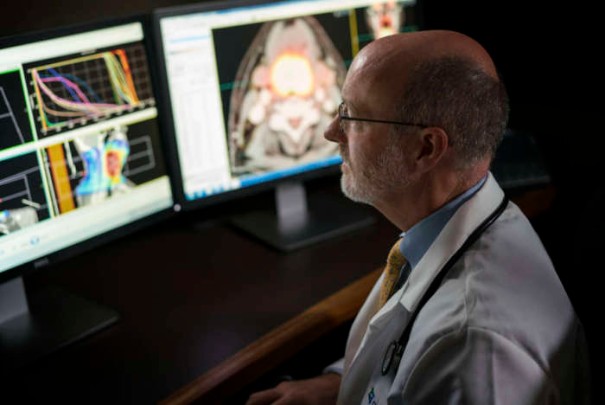 For nearly 60 years, the Temple Cancer Center's long-storied history stands as a testament to the provision of superior quality care using some of the latest technological advancements in cancer treatment. With compassion as its trademark, the center's presence in deep East Texas ensures that during their time of critical need, patients can receive treatment while staying close to home.
In 1959, as more precise forms of cancer treatment technology evolved, Dr. Ernest Seitz introduced Lufkin to Cobalt-60 radiation therapy, a revolutionary advancement from the post-World War II era. The Kurth Radiation Center, which housed the area's first Cobalt-60 unit, was a major expansion for the then 10-year-old Memorial Hospital. It became the seventh hospital in the state to obtain a cobalt machine for the treatment of cancer, with MD Anderson in Houston being the nearest hospital with such a device; it is said that the Lufkin unit was the first in the state to operate above ground.
Twenty years later and thanks to a $3 million grant from the TLL Temple Foundation, the next major expansion in cancer treatment came with the construction of the current Arthur Temple, Sr. Regional Cancer Center, bringing state-of-the-art linear accelerator-based radiation treatment to deep East Texas. Dr. William B. Shelton, Jr., a diagnostic radiologist who had joined the Memorial team on February 7, 1969, began to devote his time fully to cancer treatment and received additional training at MD Anderson Cancer Center. Up until that time and following Dr. Seitz's retirement, Dr. Shelton had shared cancer treatment duties alongside Billy G. Kistler, MD, who then moved to full-time diagnostic radiology.
As Medical Director of the Cancer Center, Dr. Shelton learned that one particular patient was collecting cans and selling them in order to purchase gas to get to and from his treatments. Feeling a call to help, he used his love of fishing and organized the Dr. Bill Shelton's Totally Awesome Fishing Adventure, a well-known bass tournament on Lake Sam Rayburn for 25 years.
His compassionate efforts led to the establishment of an indigent care fund, which to this day helps cover the cost of prescription medication, lodging and transportation for hundreds of patients seeking treatment from the Temple Cancer Center.
Dr. Sid Roberts joined Dr. Shelton in practice in 1992 and assumed medical director duties in 1997. Dr. Shelton passed away in 2006. Dr. Roberts shared and continues Dr. Shelton's ethic of never turning away a patient.
"In this era of rising healthcare costs and increased difficulty finding and maintaining insurance coverage, we – as a non-profit, charitable healthcare institution – have an obligation and a mission to provide care for all," Dr. Roberts said. "We have never turned away a fellow deep East Texan for cancer care due to lack of insurance. No one else in the region can say that. We strive to assist those in need where we can to help with transportation and lodging so that those are not barriers to receiving radiation treatment at the Temple Cancer Center."
More than 200 distinct patients receive a course of radiation treatment at the Temple Cancer Center every year. Dozens of those patients require financial help from the Indigent Care Fund.
Over the years, St. Luke's Health has found a variety of ways to help those in need. The Power of Pink! breast cancer awareness luncheons, hosted by the hospital and held each October in Lufkin and Livingston, became one of the hospital's largest fundraisers for the Indigent Care Fund. The local community has also stepped up to make sure nothing stands in the way of a patient getting to his or her cancer treatments.
In 2017, the Lufkin Host Lions Club and the Angelina Benefit Rodeo Association presented its first $10,000 check to the Temple Cancer Center. They repeated the same sizable donation in 2018.
The American Cancer Society also awarded a $5,000 community transportation grant this year with a focus on addressing unmet transportation needs of cancer patients in particularly vulnerable populations, like Angelina County, experiencing an unequal burden of cancer.
"The American Cancer Society collaborates with community health partners to reach individuals in areas with higher burdens of cancer and limited or no access to transportation, because even the best treatment can't work if a patient can't get there," said Sharifa Trotman, Mission Delivery Manager at the American Cancer Society.
Dr. Roberts, who has served as the center's Medical Director since 1997, has overseen two major Cancer Center renovations with equipment upgrades, first in 2006 – with major support of the TLL Temple Foundation and other foundations – and then again in 2015 as the Lufkin campus's first major capital infusion from Catholic Health Initiatives (CHI), who assumed ownership of the hospital in 2014.
Currently, the Temple Cancer Center provides advanced level radiation oncology treatment including intensity modulated radiation therapy (IMRT), volumetric modulated arc radiotherapy (VMAT), and stereotactic body radiation therapy (SBRT), among other types of treatment. It is rare that patients require referral elsewhere for treatment, Dr. Roberts said.
"Everyone deserves access to high-quality care, and that is what we provide, regardless of ability to pay," Dr. Roberts said. "I've done that for more than 25 years and will continue to do that for the rest of my career."
If you would like to donate to the Indigent Cancer Fund or know of someone in need, please contact the Temple Cancer Center at 936-639-7468.
Publish date:
Tuesday, November 13, 2018
Find a Doctor
---
Looking for a doctor? Perform a quick search by name or browse by specialty.