Volunteer Auxiliary Center Open House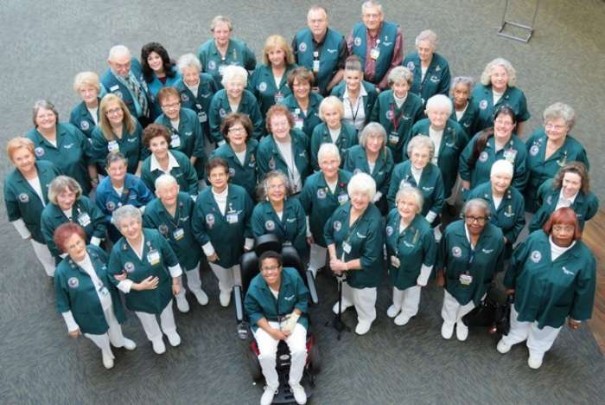 It takes hundreds, even thousands, of people to make a hospital flourish – from the business and billing departments to food service and housekeeping to, of course, nurses and technologists, each role is vital to successful patient outcomes. One critical component of St. Luke's Health-Memorial Lufkin is the dozens of volunteers who diligently give their free time and service each day to the hospital, its patients and guests.
People around the world are experiencing a renewal of the volunteer spirit. But for the Memorial Volunteer Auxiliary, who recently celebrated 42 years of service to the hospital, volunteering is a way of life. This group of dedicated men and women collectively volunteer thousands of hours each year by giving back to their community through their work at Memorial.
"What they do seems rather simple, but it truly makes a difference in how we operate," said St. Luke's Health-Memorial Chief Operating Officer Shawn Barnett. "Whether it's filling the lobby with the delicious smells of popcorn, pointing someone in the right direction or holding a hand in someone's time of need, we are grateful for the service our volunteers provide each day."
During National Healthcare Volunteer Week, recognized April 23-29, the Memorial Volunteer Auxiliary will host an open house event at the new Volunteer Auxiliary Center, located in the hospital's main lobby. The volunteers invite the public to the come-and-go event on April 26 from 10 a.m. to 2 p.m., and to also consider becoming a part of this incredible organization.
"We welcome folks to come by and see us and have a free cup of coffee," said newly elected Memorial Auxiliary President Gloria Gregory. "We know being at the hospital for tests or to visit a loved one can be stressful. We're here to offer a welcoming smile and a chance to just sit and relax."
Gregory said the Auxiliary is always looking for new members. Volunteers must be at least 18 years of age and are required to work only 4 hours per week. Volunteers raise funds through the hospital gift shop, jewelry and scrub sales. They recently surpassed the $2 million mark in contributions to the hospital. Proceeds from the popcorn sales go toward scholarships for local students wanting to pursue a degree in the medical field.
Volunteers receive numerous benefits including:
Free lunch or dinner in the cafeteria on the day you work at the hospital
Free uniform furnished by the hospital
Free flu shot
Free mammogram for females under 65 (Hospital pays what insurance does not cover)
Free T.B. test
Free valet parking
St. Luke's Health-Memorial is part of Catholic Health Initiatives (CHI), a national nonprofit health system based in Englewood, Colorado. 
For more information about the Memorial Volunteer Auxiliary, call 639-7237.
Publish date:
Thursday, April 20, 2017
Find a Doctor
---
Looking for a doctor? Perform a quick search by name or browse by specialty.