Volunteer Auxiliary Donates Equipment to ED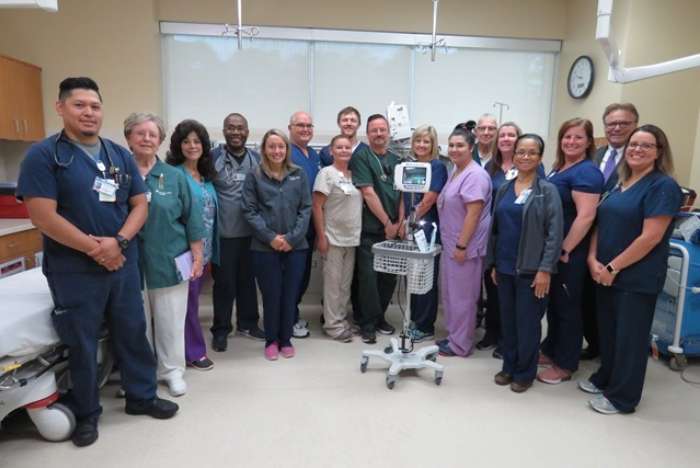 Pictured from left to right: Marco Bautista, RN; Gloria Gregory, Volunteer; Sharon Kelly, Dr. Anyanwu, ER Physician; Amanda Bridges, RN; Randy Ward, RN; Diane Moore, Unit Secretary; Max Iguess, RN; Eric Parker, RT; Dana Phillips, RN; Kenna McMullen, ER Tech; Larry Crist, Volunteer; Julie Newkirk, RN; Beth Hill, RN; Sarah Schmidt, RN; Duane Miller, CFO; Angela Hess, RN Director of Emergency Services.
The Volunteer Auxiliary at St. Luke's Health-Memorial Lufkin recently purchased a critical piece of new technology for the hospital's emergency department. The GlideScope® AVL can be used in emergency situations when a patient must be intubated quickly to assist with breathing. Used for advanced video laryngoscopy, this new device provides a consistently clear view of the airway and enhanced maneuverability. The nearly $16,500 piece of equipment was made possible through sales from the St. Luke's Health-Memorial Gift Shop and other fundraisers hosted by the Volunteer Auxiliary throughout the year.
Publish date:
Monday, July 16, 2018
Find a Doctor
---
Looking for a doctor? Perform a quick search by name or browse by specialty.