Volunteer Auxiliary Donates Wheel Chair Scale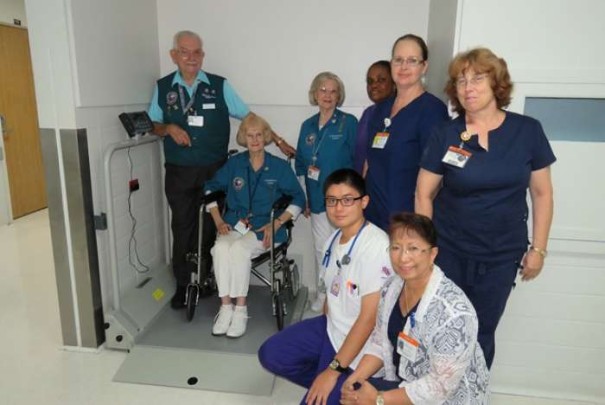 The St. Luke's Health Memorial Lufkin Volunteer Auxiliary is assisting in-patient rehabilitation patients and nurses by donating a Wheel Chair Scale.  The scale – a $2,000 investment – measures a patient's weight while he or she remains sitting in a wheel chair.  Patients undergoing in-patient rehabilitation usually have unstable balance and gait which makes it difficult for nurses to record a correct weight.  An accurate measurement, thanks to the Wheel Chair Scale, provides nurses with additional information for early detection and nutrition management, avoiding unnecessary increases in a patient's length of stay in the hospital.
Don Newland, Volunteer Auxiliary President; Jean Mizell, Volunteer; Mary Alexander, CNA; Cheng-Hsiang, SFASN; Terri Cornell, RN; Janet Knox, RN, Director of the Med-Surge and Rehabilitation Units; and Jane Newland, RN, are pictured with the new wheel chair scale.
Publish date:
Thursday, October 01, 2015
Find a Doctor
---
Looking for a doctor? Perform a quick search by name or browse by specialty.