Volunteer Make Major Contributions to St. Luke's Health-Memorial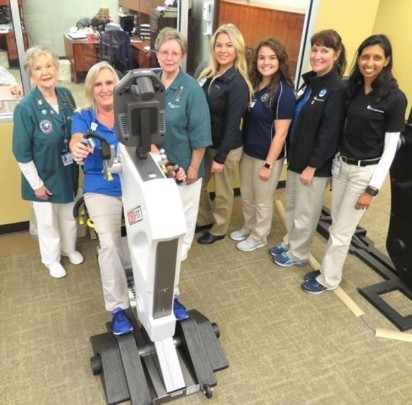 The St. Luke's Health-Memorial Volunteer Auxiliary in Lufkin recently donated more than $22,000 in equipment to the Memorial Outpatient Therapy Center and Women's Center.
More than $11,000 in equipment was purchased for the Memorial Outpatient Therapy Center, including a treatment table, a treadmill and a total and upper body exerciser.
Cheryl Ellisor, PT, Practice Manager for Outpatient Therapy, said the treatment table will allow her staff to accommodate more patients comfortably in the therapy gym, reduce wait times, and increase efficiency for the staff. The center's treadmill was more than 20 years old and the upper body exerciser was nearly at the point of disrepair.
Over the past year, the Volunteer Auxiliary has provided more than $15,000 in equipment to the Outpatient Therapy Center.
A Laborie Portascan 3D bladder scanner was also purchased by the Volunteers and will be used for hysterectomy or C-section patients to measure any post-void residual (PVR), the volume of urine left in the bladder after urination. The nearly $11,000 scanner helps monitor and diagnose urinary retention or obstruction without the use of catheters.
Publish date:
Wednesday, September 26, 2018
Find a Doctor
---
Looking for a doctor? Perform a quick search by name or browse by specialty.