Volunteers at Memorial Medical Center - Lufkin Helping Keep Newborns Warm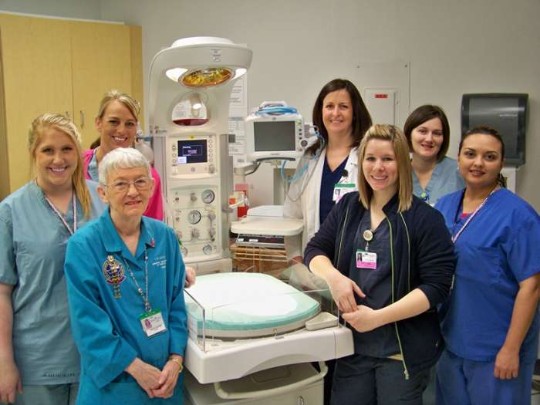 Newborn babies do not have the ability to regulate their body temperature the same way an older child or an adult does; therefore, it is very important for a newborn baby to stay warm.  The Volunteer Auxiliary at Memorial Medical Center – Lufkin recently donated a GE Giraffe Warmer to the Henderson Family Center Nursery to help keep new born babies warm.  Nurses from Labor and Delivery including (from left) Lacey Luce, RN; Evelyn Blattner, Volunteer, Misti Lowe, RNC, Clinical Coordinator; Ashley Martin, RNC, Director; Kayla Kana, RN; Kim Rogers, LVN and Yvette Compean, RN, Charge Nurse, show off the new warmer.   The Giraffe Warmer not only provides warmth for the baby but also features a "baby susan" rotating mattress which minimizes unnecessary baby stimulation, an integrated in-bed scale to enable bed-side weighing, a full color display to provide vital information and provides everything needed to deliver resuscitation therapy to high-risk newborns.
Funds raised through the Memorial Gift Shop, jewelry and scrub sales make it possible for the Volunteer Auxiliary to provide much needed equipment to the hospital.  They also award academic scholarships, which are funded by popcorn sales, to students pursuing health care careers. For more information on becoming a volunteer, visit https://www.memorialhealth.org or call 936-639-7237.
Publish date:
Wednesday, May 01, 2013
Find a Doctor
---
Looking for a doctor? Perform a quick search by name or browse by specialty.