Vote for Your Favorite Art Bra starting Sunday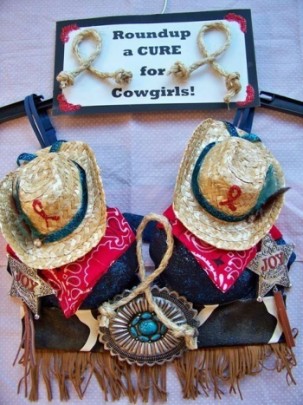 "Don't Be a Chicken – Start a Checkin'!" That is just one of this year's entries for the 4th Annual Art Bra Contest at Memorial Health System of East Texas.  For the last several weeks, participants have been decorating bras in hopes of calling attention to breast cancer and what women can do to stay healthy.  Now, the community has the chance to pick a favorite bra!  Simply go online at www.memorialhealth.org and view this year's entries and decide which Bra should be named the People's Choice. 
The Art Bra Contest has become an annual favorite as part of The Power of Pink luncheon.  Official judges – which includes members of the media – will determine the first, second and third place winners.  However, anybody can go online to cast a ballot for the People's Choice winner.  The winning Art Bras will be announced at the Power of Pink luncheon October 18 and will be modeled by special guests.
"The online voting went so well last year, we knew we had to do it again," said Lindsey Mott, Community Relations Specialist and Power of Pink Coordinator at Memorial. "We hope that by posting the pictures of these creatively decorated bras online, we will also generate more interest in participation for next year."
Photos of the Art Bras are posted on the Memorial website along with the entry name. A list of names is provided next to the photos with a place for voters to "check" their favorite.  For voting purposes, the names of the individuals who created the entry are not listed with the photo.  After the winners have been announced, the creator's name will be included with their Art Bra. 
The Art Bra Contest began four years ago as a fun way to increase breast cancer awareness.  With the continued support of Memorial and Abeldt's Gaslight Pharmacy the contest has grown in popularity every year!  This year, Victoria Secret teamed up with the contest to provide bras to decorate.
Be sure to visit the Art Bra voting page to place your vote Sunday, October 14 through Tuesday, October 16.
Publish date:
Friday, October 12, 2012
Find a Doctor
---
Looking for a doctor? Perform a quick search by name or browse by specialty.