A Woman's Disease: Gynecologic Cancer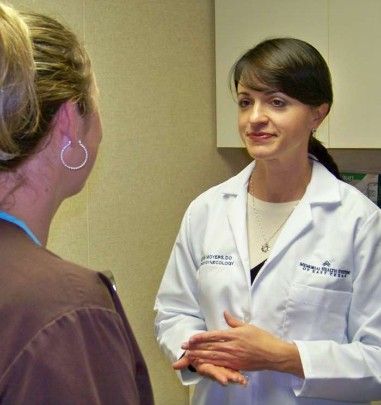 A mother, a sister, a best friend, no matter what connection a person may have to another women she is at risk.  Every woman is at risk for developing some type of gynecologic cancer.  Gynecologic cancers affect the female reproductive system and include the cervix, ovaries, uterus, fallopian tubes, vagina and vulva.  According to the Gynecologic Cancer Foundation, this year over 78,000 women in theUnited States will be diagnosed and over 28,000 will die from gynecologic cancer.  In an effort to raise awareness of gynecologic cancer, Memorial Health System of East Texas is joining other organizations nationwide to promote Gynecologic Cancer Awareness Month during September. 
"Gynecologic cancers are caused by the uncontrolled growth and spread of abnormal cells originating in the female reproductive organs, including the cervix, ovaries, uterus, fallopian tubes, vagina and vulva," said Dr. Carolyn Moyers, Obstetrics and Gynecology.  "Risk factors can include smoking, aging, environmental influences, family history, failure to receive regular pap tests, not bearing children, infertility, obesity, hypertension, diabetes, and estrogen use."
Although generally discussed as a group, gynecologic cancers have a spectrum of different causes, prevention and detection methods, treatments, and likelihoods of a cure.  Dr. Moyers points out that each gynecologic cancer is unique and has distinct signs and symptoms.  However, generally warning signs and symptoms include unusual vaginal bleeding or discharge, a sore that does not heal, pain or pressure in the pelvic area, a persistent change in bowel or bladder habits, frequent indigestion or abdominal bloating, and a thickening or lump that either causes pain or can be seen or felt.
Regular screening and self-examinations can result in the detection of certain types of gynecologic cancers in their earlier stages, when treatment is more likely to be successful and a complete cure is a possibility.  Diet, exercise and lifestyle choices also play a significant role in the prevention of cancer.  Knowledge of family history can increase the chance of prevention or early diagnosis by determining if someone may have a gene which makes them susceptible to cancer.
Cervical cancer is the easiest gynecological cancer to prevent with regular screening tests and follow-up.  The cervix connects the vagina or birth canal to the upper part of the uterus.  The uterus or womb is where a baby grows when a women is pregnant.  There are two tests that can either help prevent cervical cancer or find it early, the Pap test (Pap smear) or the HPV test.  Women should begin getting a regular Pap test at age 21 or within three years of becoming sexually active, whichever happens first.  It is also important to continue getting Pap tests regularly even if you think you are too old to have a child or are not having sex anymore. 
The American Cancer Society ranks Ovarian cancer as the ninth most common cancer and the fifth leading cause of cancer death among women. Women have two ovaries that are located in the pelvis, one on each side of the uterus.  The ovaries make female hormones and produce eggs.  There is no simple and reliable way to test for ovarian cancer in women who do not have any symptoms.  Knowing your body and being aware of the symptoms of ovarian cancer can make all the difference in the early detection of this form of cancer.  Symptoms of ovarian cancer include vaginal bleeding, pain or pressure in the pelvic or abdominal area, back pain, bloating, feeling full quickly while eating and urinary symptoms (urgency or frequency). 
The Centers for Disease Control rank uterine cancer as the fourth most common cancer in women in the United States and the most commonly diagnosed gynecologic cancer.  The uterus is the pear-shaped organ in the woman's pelvis.  The uterus, also called the womb, is where the baby grows when a woman is pregnant.  The most common type of uterine cancer is called endometrial cancer because it forms in the lining of the uterus, called the endometrium.  It is important to know the signs and symptoms of uterine cancer as it is not recommended for women to have routine testing.  The signs and symptoms of uterine cancer include bleeding after menopause and irregular or excessive vaginal bleeding before menopause, pain or pressure in the pelvis and vaginal discharge that is not normal for you.
Vaginal and Vulvar cancers are very rare.  They account for about six to seven percent of all gynecologic cancer diagnosed in the United Statesaccording to the Centers for Disease Control.  The vagina, also called the birth canal, is the hollow, tube-like channel between the bottom of the uterus and the outside of the body.  The vulva is the outer part of the female genital organs.  Regular pelvic exams by a physician can lead to the early detection of these types of cancers.  Signs and symptoms of vaginal cancer include vaginal discharge or bleeding that is not normal for you, a change in bathroom habits and pain in the pelvis or abdomen.  The signs and symptoms of vulvar cancer include itching, burning, bleeding, pain or a new lump or ulcer in the vulvar or clitoral area. 
"Your annual exam with your OBGYN is more than just a pap smear," said Dr. Moyers.  "Even though all women don't necessarily look forward to this yearly exam, it is key to your reproductive health and recommended even if you have had a hysterectomy."
Every woman is at risk for developing gynecologic cancer.  On average, every 6.4 minutes a woman in this country will be diagnosed with a cancer of the reproductive organs.  It is important to know the signs and symptoms of gynecologic cancer and talk with your physician about possible tests for early detection.
About Memorial Health System of East Texas
As the largest health care system in the deep East Texas area, Memorial Health System of East Texas is a private, not-for-profit hospital that provides care to almost a quarter of a million patients each year.  Since its inception in 1949, Memorial Health System has paved the way for quality, innovative health care in East Texas.  In fact, Memorial consistently ranks among the nation's best for exceptional health care and patient satisfaction. 
Memorial Health System of East Texas is comprised of four hospitals—Memorial Medical Center—Lufkin, Memorial Medical Center—Livingston,Memorial Medical Center—San Augustine, and Memorial Specialty Hospital, the only rural long-term acute care facility within the area.  Memorial offers a wide array of services, including the newly renovated Arthur Temple Sr. Regional Cancer Center, which consistently earns a three-year accreditation with commendation from the Commission on Cancer.  In 2009 the System opened the doors to the area's first dedicated heart and stroke care center—the Cardiovascular & Stroke Center of East Texas.   With a partnership with The Methodist Hospital in Houston, Memorial provides an advance level of stroke care, while offering the latest in heart care from a highly trained team of heart surgeons and cardiologists.  Memorial was the first health care facility in Texas to acquire the DaVinci High Definition Robot for robotic assisted procedures in heart, lungs, kidneys and gynecology.  The hospital also is known for providing the area's only comprehensive diabetes center—The Horace C. Polk Regional Diabetes Center.  Other centers of excellence include the Temple Imaging Center that offers some of the most advanced procedures in the area, including PET/CT scanning for cancer and Alzheimer's, 64 Slice CT scanning, Open Bore MRI, 4D Ultrasound, and digital mammography. Other specialty areas include Orthopedic care, Women's Services, Inpatient and Outpatient Rehabilitation, Homecare, Wound and Hyperbaric Therapy, Kidney & Diabetes Treatment, Sleep Disorders Treatment, Occupational Health and Express Lab. Memorial Health System of East Texas—founded and funded by the people it serves.
Publish date:
Thursday, September 23, 2010
Find a Doctor
---
Looking for a doctor? Perform a quick search by name or browse by specialty.