Women Name St. Luke's Health Memorial Lufkin as Best Hospital for Orthopedic Care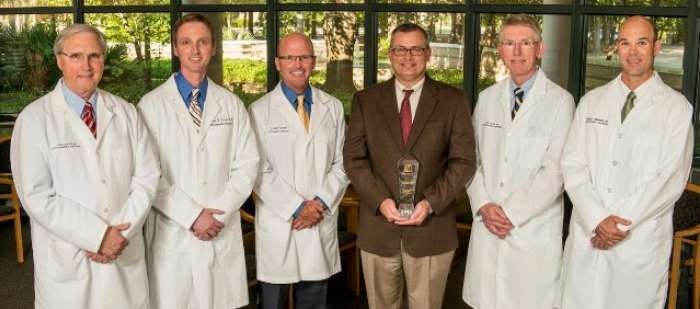 When it comes to health care, women are oftentimes the primary decision makers in where their family receives care. St. Luke's Health Memorial Lufkin values these opinions and is pleased to announce it received the highest recommendation by women as one of America's Best Hospitals for Orthopedic Care.
In 2014, The National Osteoporosis Foundation reported that a woman's risk of hip fracture is equal to her combined risk of breast, uterine and ovarian cancer (NOF 2014, "What Women Need to Know"). The Women's Choice Award – an evidence-based designation reflecting exceptional clinical performance and the preferences of a collection of women – identifies America's Best Hospitals in Orthopedics in order to address the growing need for bone and joint care, and disease prevention.
"We take pride in offering the very best in orthopedic care for our patients," said Peggy Mortensen, St. Luke's Health Memorial Chief Operating Officer and System Vice President of Clinical Operations. "When a woman sees the Women's Choice Award at St. Luke's Health Memorial, she'll know this hospital values her experience as a critical component of her and her loved ones' care."
As one of America's Best Hospitals for Orthopedics, St. Luke's Health Memorial was selected due to its excellent rating in areas such as post-treatment complications, patient recommendation ratings, availability of microscopic surgery and adequate post-surgical care.
The Orthopedic Center at St. Luke's Health Memorial Lufkin specializes in hip, knee and shoulder joint replacement, repair of fractured bones, sports medicine injuries, general orthopedic care, surgery, digital imaging technology, rehabilitation, continuing education and home health services.
The hospital's Imaging Department, Inpatient and Outpatient Rehabilitation Departments, Surgical Department and the Orthopedic Center work together to provide seamless and continuous care.
"CHI St. Luke's Health Memorial is dedicated to providing a high level of care to all of our orthopedic patients," Board Certified Orthopedic Surgeon Daniel Fuentes, D.O., P.A. said. "With an established area of the hospital designated to orthopedic care, along with a tremendous team of nurses, and physical and occupational therapists, we are able to provide our patients with both an effective and efficient way of rehabilitating them to make their final transition to their own home safely. It all starts in the operating room, and from there, to the recovery room and finally the hospital floor.  This continuity of care is paramount in getting our patients the best care available."
Lufkin's orthopedic surgeons at the Texas Specialist Center include Dan Carter, M.D., Jason Carter, M.D., Daniel Fuentes, D.O., P.A., Roy Guse, M.D., and Merritt Pember, M.D., – all board certified in orthopedic surgery.
By carrying the Women's Choice Award seal, St. Luke's Health Memorial joined an elite network of hospitals committed to a global mission to empower women, serving as an example to all hospitals while setting new standards of healthcare excellence for women, their families, and their community.
Women in the East Texas area can choose St. Luke's Health Memorial with confidence that the hospital is women-friendly and is aligned with the unique needs of a woman choosing where she receives orthopedic care.
"The Women's Choice Award empowers women to make smart healthcare choices," said Mortensen. "This award is further proof that women can trust St. Luke's Health Memorial when making healthcare decisions for themselves and their families."
For more information, call 888-805-2649 or 936-639-7081.
Publish date:
Friday, June 05, 2015
Find a Doctor
---
Looking for a doctor? Perform a quick search by name or browse by specialty.