Women Name Memorial Best Hospital for Cancer Care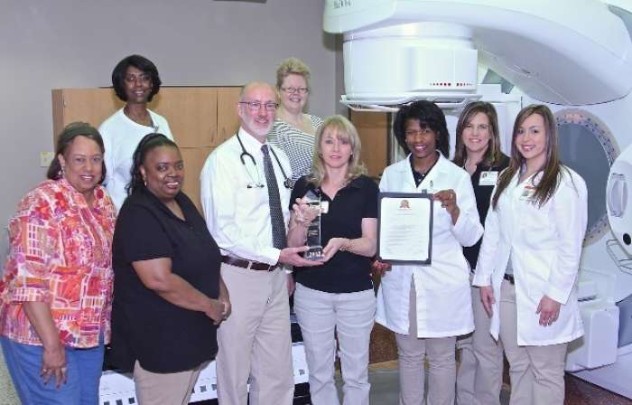 According to the American Cancer Society, more than one million people in the U.S. are diagnosed with cancer each year. As a sign of St. Luke's Health Memorial Lufkin's commitment and passion towards an extraordinary healthcare experience for women and all patients, the hospital recently received the Women's Choice Award® as one of America's Best Hospitals for Cancer Care.
By carrying the Women's Choice Award seal, St. Luke's Health Memorial Lufkin has joined an elite network of hospitals committed to a global mission to empower women to make smart healthcare choices.
More than 800,000 women were diagnosed with cancer in 2014 with the most common cancers for women being breast cancer, lung cancer and colorectal cancer (Everyday Health and Centers for Disease Control and Prevention, 2015). Now more than ever, the Women's Choice Award seal serves as a validation to women that they are selecting the best hospitals for their own care and that of their family, said Sharyn S. Lee, RN, MS, FACEHP, President of the Women's Choice Healthcare Division.
"As a regional cancer center, our aim is to provide the very best to the thousands of cancer patients across East Texas," said St. Luke's Health Memorial Chief Operating Officer and Lufkin President Shawn Barnett. "Our dedicated staff stands ready to journey alongside those facing some of the most difficult moments of their lives, and the multi-million investment we recently made into our state-of-the-art center emphasizes the value we place on cancer care."
St. Luke's Health Memorial is among an elite group of hospitals who have earned the 2015 Women's Choice Award by meeting the highest cancer care accreditation standards of the American College of Surgeons Commission on Cancer, as well as for their excellence in clinical performance with regard to patient safety measures, and for their high recommendation rate, a measure that is very important to women in choosing a hospital.
"Women have many choices when it comes to cancer care, and now they can make informed choices based on rigorous evidence based criteria," said Temple Cancer Center Medical Director Sid Roberts MD, FACR. "To be recognized with the Women's Choice Award is truly an honor. We know that a vast majority of women are the primary decision makers when it comes to health care, and we are thrilled that they choose St. Luke's Health Memorial and the Temple Cancer Center."
According to the American College of Emergency Physicians, the United States is undergoing a "paradigm shift in health-related thinking, from an emphasis on disease to an emphasis on the patient" (2014). This study suggests that health care's two goals are to make people live longer and to enhance the quality of life (American College of Emergency Physicians).
That is most certainly the goal for the staff at the Temple Cancer Center. This year, the center underwent a multi-million dollar renovation with upgrades in software and equipment.
As part of a major investment in the health and well-being of the community, St. Luke's Health Memorial recently purchased a linear accelerator used for radiation therapy and a Toshiba large bore CT scanner in order to plan treatment for cancer patients with more precision.
Patients currently being treated with intensity modulated radiation therapy, or IMRT, now receive their treatment in a fraction of the time, often less than five minutes per treatment, Dr. Roberts said. Standard treatments commence even faster with additional precision and less dose to surrounding normal tissues, which means fewer side effects.
The new Toshiba large Bore CT scanner is specifically designed to offer improved planning for radiation therapy treatments. Additionally, bariatric patients – patients with morbid obesity – can now be imaged right here in Lufkin instead of traveling to Houston, Tyler or Dallas.
During the past six months, the Temple Cancer Center staff has installed and implemented several pieces of innovative technology, including Vision RT image guided radiation alignment technology, and other accessories and software upgrades.  The multi-year project to upgrade the Cancer Center's equipment involved intense research on various models of machinery, site visits to other cancer centers, renovation to the linear accelerator vault within the Temple Cancer Center, installation of new equipment and computer software, and weeks of staff training.
"To say, 'We got a new piece of equipment,' understates what we've accomplished for our patients," Dr. Roberts said. "It was no small task, but it recognizes the importance of exceptional cancer treatment to our region and signals that St. Luke's Health Memorial will remain the regional hub for cancer care in deep East Texas."
Publish date:
Wednesday, June 17, 2015
Find a Doctor
---
Looking for a doctor? Perform a quick search by name or browse by specialty.