Women Trust St. Luke's Health-Memorial for Safety, Heart and Stroke Care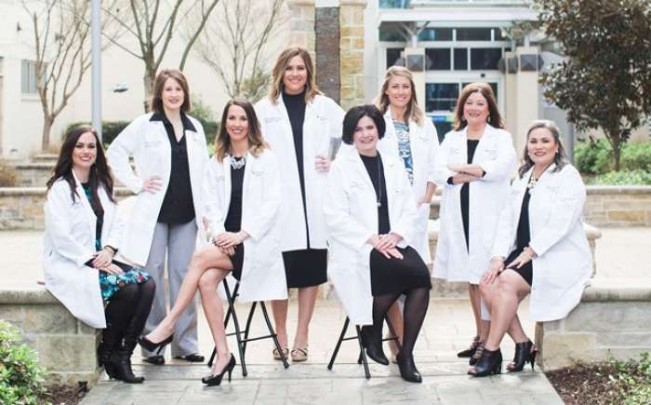 Women account for 90% of all family healthcare decisions – whether it's for an ailing parent, a sick child or the wellness of their spouse. This year, St. Luke's Health-Memorial Lufkin earned the prestigious Women's Choice Award for America's Best Hospitals for Heart Care and Patient Safety, as well as America's Best Stroke Centers demonstrating that women can feel confident in choosing the best care for themselves and their families at Memorial.
These evidence-based designations reflect exceptional clinical performance and the voice of the female consumer. The 'America's Best' hospitals demonstrate exceptional ratings, providing the highest level of care and commitment to their patients' health and well-being. This award is the only designation that takes into consideration the preferences of women when selecting a hospital.
"We understand that women have a strong voice when it comes to healthcare choices, and we're proud they have chosen us," said St. Luke's Health-Memorial Chief Executive Officer Monte Bostwick. "We take a tremendous amount of pride in offering safe, effective care to all our patients, especially to heart disease and stroke victims."
The America's Best Hospitals for Heart Care award signifies that St. Luke's Health-Memorial ranks in the top 9 percent of the nearly 5,000 U.S. hospitals offering heart care services. According to the American Heart Association, heart disease is the No. 1 killer of American women, causing 1 in 3 deaths each year—approximately one woman every minute.  What's often thought of as a "man's disease" strikes more women than men, and is more deadly than all forms of cancer combined.
"With such strong prevalence of heart disease, every woman should know where to find the very best heart care before she ever has an incident," said Delia Passi, founder and CEO of The Women's Choice Award.  "We help women by conducting evidence-based research and recognizing the hospitals that could one day save their lives."
This is the second year in a row, St. Luke's Health-Memorial has earned the America's Best Hospital for Patient Safety designation, which shows that the Lufkin hospital reported a low incidence of problems arising from surgical errors and infections.
"Safety is our No. 1 priority from the minute you come through our doors," Bostwick said. "Whether it's for surgery, diagnostic testing, or you just need some time to get well, we want you to know you are in good hands here."
The America's Best Stroke Centers recognizes hospitals that meet the highest of standards for stroke care as determined by the Joint Commission. With board certified neurologists and neurosurgeons on staff, St. Luke's Health-Memorial is the area's first and only Joint Commission Certified Primary Care Stroke Center and routinely meets disease-specific requirements, clinically specific requirements, and expectations which include:
Use of a standardized method of delivering care,
Support for patient self-management activities,
Tailoring of treatment and intervention to individual needs,
Promotion of the flow of patient information across settings and providers, while protecting patient rights, security and privacy,
Analysis and use of standardized performance measure data to continually improve treatment plans, and
Demonstration of their application of and compliance with clinical practice guidelines published by the AHA/ASA or equivalent evidence-based guidelines.
St. Luke's Health-Memorial also meets and/or exceeds several strict performance measures for stroke care that are laid out by the Centers for Medicare and Medicaid Services (CMS).
"When our employees come to work every day, they know what's at stake. It's more than just a job to us – it's a calling to heal the sick of our community," Bostwick said.
In addition to providing excellent care that women can trust within the confines of the hospital, St. Luke's Health-Memorial works hand in hand with Lufkin's talented medical staff who provide daily care in outpatient clinics. Women oftentimes put their loved ones first, but they also must remember to take care of themselves. Over the past year, Memorial Clinics, a division of the hospital, has placed a special importance on recruiting Obstetricians and Gynecologists, as well as Nurse Practitioners who specialize in women's health. From infertility to pregnancy, well-woman screenings to cancer diagnoses, this group of women has nearly 100 years of combined experience focused solely on providing for women's health.
Longtime and respected OB/GYN, Dr. Kay Carter, joined the Memorial Clinics team earlier this year, relocating her practice to the Medical Arts Pavilion on the Memorial campus and bringing with her Nurse Practitioner Lauren Manley and Certified Nurse Midwife Crystal Smith. Dr. Dixie McClendon-Coker and Nurse Practitioner Sapphira Clark also joined Dr. Carter's office this year.
In the fall of 2016, Dr. Rachael Sullivan and Nurse Practitioner Crystal Sepulvado joined the Memorial Clinics team. They are also located in the Medical Arts Pavilion along with Dr. Sheila Hill, who recently became a faculty member at the Baylor School of Medicine in Houston, and is affiliated with the team. All of this has resulted in the creation of a powerhouse team of women ready to compassionately serve and care for the women of deep East Texas.
Publish date:
Thursday, April 13, 2017
Find a Doctor
---
Looking for a doctor? Perform a quick search by name or browse by specialty.