10 Healthier New Year's Resolutions
The new year is the perfect time for a healthier change. New Year's resolutions don't have to be strict rules, sacrifices, or all-or-nothing guidelines. Instead of common New Year's resolutions, try these healthier alternatives. 
Instead of "Lose Weight"
Try "Balance Health" 
One of the most popular New Year's resolutions is to lose weight, but having that as the goal may not be the best way to achieve good overall health. Try to aim for balancing your health. Start at the foundations of a healthy lifestyle, including nutrition, exercise, and emotional well-being. Quit smoking and kick bad habits. Once you ease your way into a healthy lifestyle, it may become easier for you to lose that excess weight. Talk with your doctor about what you can do to get your health back on track. 
Instead of "Give Up Junk Food"
Try "Make A Healthy Swap" 
It can be difficult to give up junk food all at once, and sometimes it can lead to a junk food binge later on. Depriving your body of certain foods all at once can make your body crave it even more. Instead, whenever you start reaching for that bag of potato chips, swap it for low-salt, unbuttered popcorn. Instead of having a can of soda, swap it for fruit juice with no added sugar. Feel free to indulge in a bit of dark chocolate or snack on some pretzels every now and then, but each time you make a healthier swap, your body will thank you for it. 
Instead of "Train for Marathon"
Try "Start Jogging" 
Setting large goals for the new year is a great way to get motivated, but if you are looking for a lifestyle change, starting off with smaller steps might be the best way to go. Beginning with intense physical activity can be harmful to an unconditioned body, and the lack of quick goal attainment can be discouraging. Speak to your doctor about what physical activity is best for you, especially if you have any chronic conditions. The recommended amount of exercise is at least thirty minutes of moderate physical activity a day. All you need is the right program and preparation. 
Instead of "An Apple a Day Keeps the Doctor Away"
Try "Make Regular Appointments" 
Going to the doctor for your annual health exam is one of the best forms of preventive care. Even if you feel fine, there could be underlying conditions that can increase your risk of illness. Make an appointment to get a mammogram, have your prostate checked, or make sure your blood pressure is controlled. Take care of your health for the new year and make an appointment today. 
Instead of "Take On More"
Try "Simplify" 
It may seem like a good idea to dive into the new year by checking as many things off your list as you can and staying one step ahead of your busy schedule, but it may not be the best idea for your mental health. Negative responses to stress can lead to major health problems, including an increased risk of heart disease. Sometimes it is better to take a step back and prioritize, let go of certain pressures, and take time for yourself. Manage your stress and declutter your thoughts by taking a walk, listening to music, or practicing yoga. Decide what is necessary to devote your time to and put a hold on the rest. 
Instead of "Make Lots of New Friends"
Try "Stay in Touch with Old Friends" 
Building a social support network is essential to maintaining good health. While making new friends is great, one thing to keep in mind is quality over quantity. Making shallow relationships with a large number of people may not do as much good as having deep relationships with a few people. Keep in touch with those who matter most to you. Schedule time to speak face-to-face rather than just "liking" a post on social media. Make meaningful connections and benefit from the physical power of social support. 
Instead of "Limit TV Time"
Try "Read More" 
Instead of taking away certain pleasures or setting limits on what you can do, try making a positive twist to your resolution. Rather than establishing what you cannot do with your time, make a promise to engage in other positive activities. Make a resolution to spend some time each day reading, walking your dog, or learning a new language. This will leave less time for you to engage in other activities like sitting down watching television. 
Instead of "Get Rid of Wrinkles"
Try "SPF"
Sticking to a beauty routine with the latest anti-aging products is not the best way to care for the future of your skin. The best way to prevent skin damage is to wear sunscreen with an SPF of at least 15 daily. Whenever your skin is exposed to the sun's harmful rays, your risk of skin cancer and premature aging increases. You can still keep up with your regular skincare routine, but we definitely recommend following sun safety tips. 
Instead of "Save Money"
Try "Spend Wisely" 
If you decide to save money for your New Year's resolution, make sure you are saving up for something in particular. Instead of being more money-conscious just to have cash, try looking into purchases that invest in your health. Save up for a much-needed vacation or spend that money on a spin class membership. If you have the disposable income, you have the option to use it to take care of your health. 
Instead of "Better Yourself"
Try "Help Others" 
It is always good to take care of yourself, and you can also benefit from taking care of others. Volunteering can give you a sense of purpose in life and boost your mental health. Volunteer at St. Luke's Health or visit residents at the nursing home. No matter how you wish to help, taking the time to create healthier communities benefits everyone. 
All of us at Baylor St. Luke's Medical Group The Woodlands wish you a happy and healthy New Year!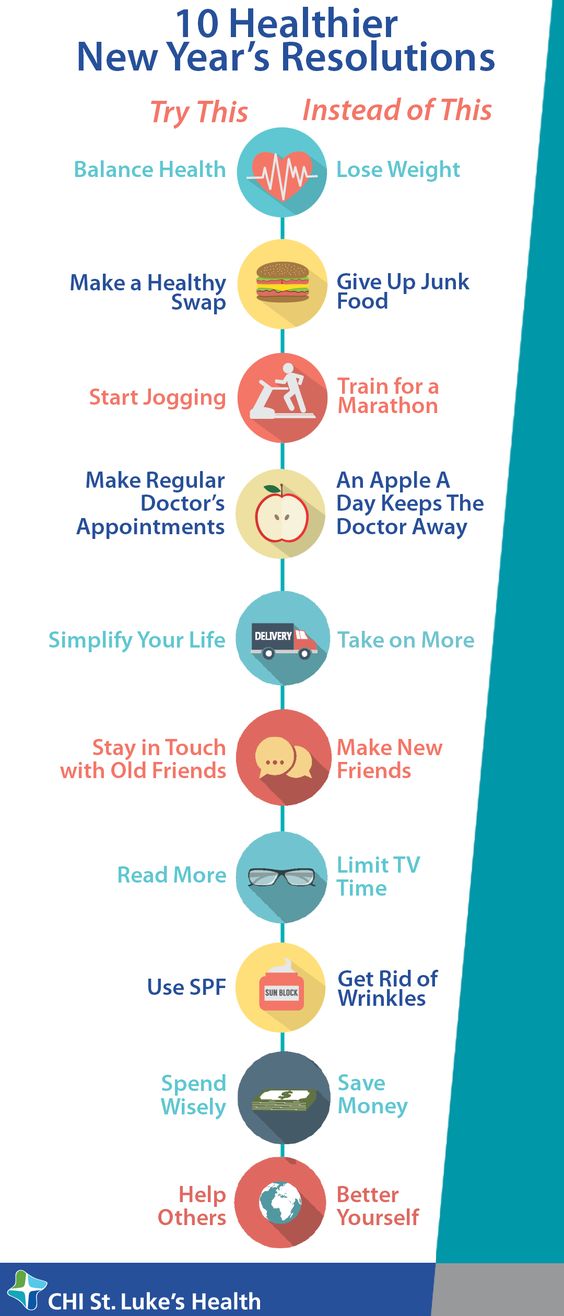 Find a Doctor
---
Looking for a doctor? Perform a quick search by name or browse by specialty.