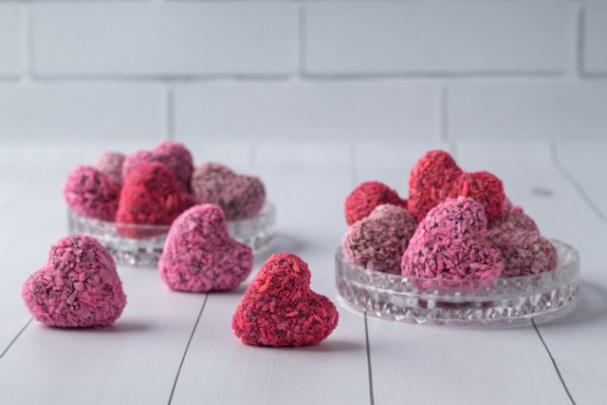 6 Healthy Valentine's Day Treats You'll Fall in Love With
When you think of Valentine's Day, you probably picture boxes of chocolates and brightly colored conversation hearts. While delicious, the usual Valentine's fare is less than nutritious, but don't let that put a damper on your lovey-dovey mood. These tasty treats would make even Cupid jealous, and they're healthy too! 
1. No-Bake Chocolate Raspberry Love Bites
Ingredients:
½ cup freeze-dried raspberries
½ cup desiccated coconut
2 cups rolled oats
3 tbs cocoa powder
⅓ cup maple syrup
1 cup fresh raspberries
There's never been a sweeter way to show your love than with these wholesome bites! To make the coating, put the freeze-dried raspberries and desiccated coconut into a food processor and pulse until well mixed. Set the coating aside for later. To make the dough, place oats and cocoa powder into the food processor and pulse into a fine powder. Add in the maple syrup and fresh raspberries, and then process until combined. 
Roll the dough into heart shapes, cover them with the coating, and refrigerate for at least an hour before enjoying.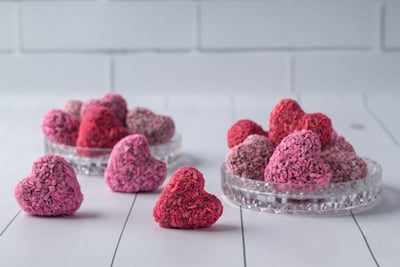 2. Peek-a-Boo PB&J
Ingredients:
2 slices of whole-grain bread
Peanut butter or other nut butter
Natural strawberry fruit spread
Let your Valentine know they're your jam by making them this tasty treat! Take one slice of bread and use a heart-shaped cookie cutter to remove a section in the middle. Spread peanut butter on this piece and a layer of fruit jam on the other slice, and place the cut-out heart bread on top. Spoon a little extra jam into the heart cut-out to give it a little more color if needed.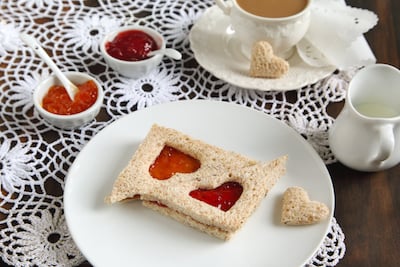 3. Pretty-in-Pink Popcorn
Ingredients:
½ cup freeze-dried strawberries or raspberries 
¼ tsp pink Himalayan sea salt 
Stove-top or microwave popcorn without added salt
Ready to cue up your favorite romantic comedies? Then make this satisfying snack to share with your sweetie during your movie marathon. Place the freeze-dried fruit into a spice grinder or food processor and pulverize into a fine powder. Add the pink Himalayan sea salt to the mix, and then sprinkle on top of freshly popped popcorn. If you want to indulge a bit more, drizzle some melted dark chocolate on top!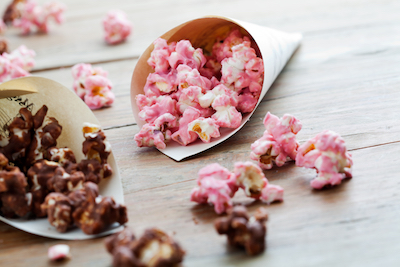 4. Dark Chocolate Dipped Strawberry Hearts
Ingredients:
Want to give your heart to someone this Valentine's Day? Make the holiday special with these antioxidant-rich snacks. Wash the strawberries and slice the stem off. Lie the berries on their sides, and carefully cut a triangle out of the tops. Next, fill a microwave-safe bowl with the chocolate chips and microwave for 30 seconds, then remove and stir. Continue to heat it in 30-second intervals until melted, and be sure to use oven mitts to handle the hot dish. Dip the unsliced-end of each strawberry into the chocolate and lay them down a piece of parchment paper to cool.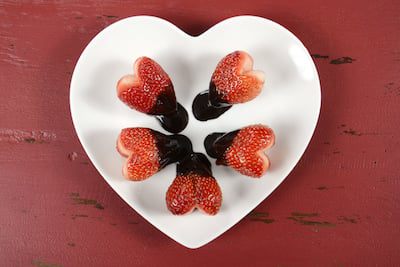 5. "I Love You Berry Much" Smoothie
Ingredients:
½ cup frozen strawberries
½ cup frozen raspberries
½ cup milk of your choice
1 tbs almond butter
½ banana
Show your sweetheart some love this Valentine's day with a vitamin-packed smoothie! Place all of the ingredients in a blender and mix on high speed until it's smooth. Pour into a cup and enjoy! 
6. Light-Hearted Yogurt Pops 
Ingredients:
Low-fat vanilla Greek yogurt
Raspberries (optional: blend in a food processor)
You and your sweetie can indulge without a bunch of added sugars with these refreshing pops! In a small bowl, mix the yogurt and raspberries together. Spoon the mixture into heart-shaped ice cube trays, insert popsicle sticks, and freeze.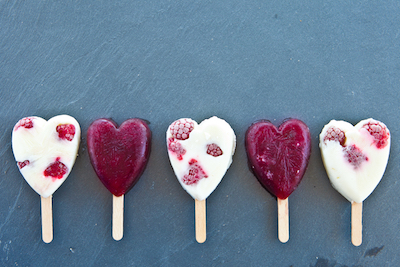 Find a Doctor
---
Looking for a doctor? Perform a quick search by name or browse by specialty.