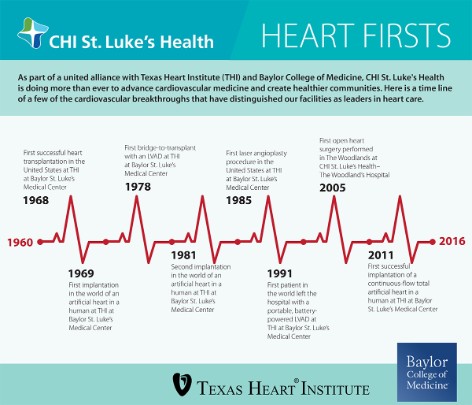 St. Luke's Health Cardiovascular History
Dr. Denton Cooley and his team at St. Luke's Health–Baylor St. Luke's Medical Center in Houston made history by performing the first successful human heart transplant in the United States.
What followed were decades of life-changing advancements in cardiovascular care developed at Texas Heart® Institute at St. Luke's Health in the Texas Medical Center—and thousands of stories of lives saved.
In addition to the medical breakthroughs achieved at the Texas Medical Center, we've performed numerous "firsts" for Montgomery County right here in The Woodlands, including the first open heart surgery, first endovascular aortic aneurysm repair and first intravascular ultrasound. 
Click on image to enlarge
Find a Doctor
---
Looking for a doctor? Perform a quick search by name or browse by specialty.