How to Alleviate Mild Symptoms of COVID-19
This blog was posted on April 7th. Because the situation surrounding COVID-19 is constantly evolving, some information may not be up to date. Stay informed by following information from your local officials and by visiting the CDC website.
According to the CDC, "most people with COVID-19 have mild illness and are able to recover at home without medical care." If you experience mild symptoms of this virus, such as a low-grade fever or a cough, you might be able to recover from the comfort of your own home. Here are our tips for managing your symptoms and avoiding spreading the virus to anyone else.
Items to Purchase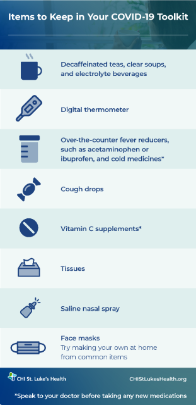 Tips for Healing
Take a symptom assessment at CHIStLukesHealth.org/COVID-19.
Isolate yourself to avoid spreading the virus.
Avoid touching your face.
Get some quality rest.
Stay hydrated with water, decaffeinated tea, and clear soups.
Monitor your symptoms. If they become severe, call 911.
Talk to your primary care physician about what over-the-counter medications are right for your symptoms and medical history.
Wash your hands and disinfect high-traffic areas and objects frequently.
Signs That You Can Stop Self-Isolating
People with COVID-19 can stop self-isolating when they meet all three of the following conditions:
They have spoken to their primary care physician and gotten the go-ahead to stop self-isolating.
Their symptoms have improved (cough, shortness of breath).
At least seven days have passed since they first noticed symptoms.
Find a Doctor
---
Looking for a doctor? Perform a quick search by name or browse by specialty.