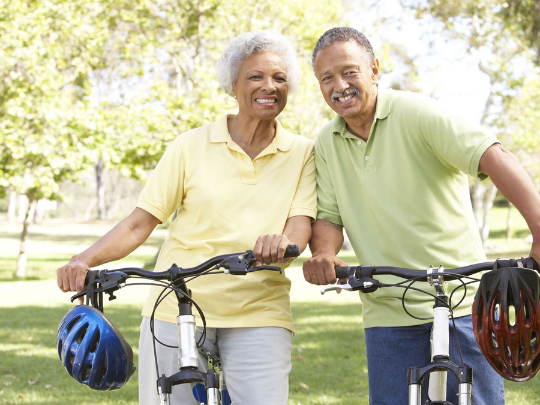 African-Americans: Greater Risk for Heart Disease
Heart disease is the leading cause of death in the United States across all ethnic groups; however, African-Americans do have an increased risk of heart disease and stroke. According to a study by the New England Journal of Medicine, the rate of heart failure for African-Americans before the age of 50 is 20 times higher than that of Caucasians. Many researchers point this high prevalence back to three primary risk factors: obesity, diabetes, and high blood pressure.
High Prevalence of Obesity
According to the American Heart Association, 63 percent of African-American males and 77 percent of African-American women over the age of 20 are overweight or obese. Being overweight can lead to a buildup of plaque in your arteries, which further increases your risk of heart attack or stroke. Also, being obese can increase your blood pressure, lower "good" HDL cholesterol, raise bad cholesterol, and raise triglyceride levels.
Growing Rate of Diabetes
About 15 percent of all African-Americans age 20 and older have diabetes. Untreated, diabetes can lead to serious complications. In fact, heart disease, particularly coronary artery disease and congestive heart failure, is nearly twice as common for diabetics because high blood sugar can be harmful to the heart's blood vessels.
High Blood Pressure
Three-fourths of African-Americans who develop heart failure have high blood pressure by age 40. Hypertension, or high blood pressure, is often referred to as a silent killer because the condition can cause permanent heart damage before an individual notices any symptoms. Research suggests African-Americans may carry a gene that makes them more salt sensitive, increasing the risk of high blood pressure that is often more severe and often occurs earlier in life. 
Heart Disease in African-American Women
According to the American Heart Association, 49 percent of African-American women over the age of 20 have heart disease; however, only 1 in 5 African-American women believe they are at risk. Knowing the risk factors for heart disease and the lifestyle changes that can reduce the risk is imperative in the fight against heart disease.
While African-Americans have a high prevalence of risk factors for heart disease, many of them can be managed through conscious life changes. Keeping up with information on heart disease and following a H.E.A.R.T Healthy lifestyle can help.
Find a Doctor
---
Looking for a doctor? Perform a quick search by name or browse by specialty.