The Benefits of a Comprehensive Stroke Center Certification
In the event of a stroke, it may seem like the best hospital to go to is the closest one, but that's not always the case. It's important to go to a center offering the innovative technology, expertise, and infrastructure to stop the stroke in its tracks, minimize brain damage, and treat the underlying cause. You can find all of these features at a certified Comprehensive Stroke Center, which gives patients the greatest chance of recovery.
What Does It Mean to Be a Comprehensive Stroke Center?

A DNV GL-Certified Comprehensive Stroke Center must meet certain requirements, including (but not limited to):
The facility must have a designated neuro-intensive care unit or designated beds for complex stroke patients. This area should have knowledgeable staff and/or licensed independent practitioners to provide neuro-critical care.
The facility must have advanced screening capabilities, including 24/7 CT scanning and angiography, as well as magnetic resonance imaging (MRI), magnetic resonance angiography (MRA), and more.
The facility must participate in Institutional Review Board research.
The facility must successfully perform a set number of various procedures, including endovascular coiling or surgical clipping and thrombectomies.
The Benefits of Comprehensive Stroke Care

A stroke occurs when a blood clot blocks an artery that normally delivers blood to the brain or a vessel ruptures and bleeds. When the brain can't access this oxygen-rich blood, its cells can experience permanent damage. The longer it goes without blood, the more damage occurs. Therefore, efficient care means more healthy brain cells survive.
There are a variety of strokes, and the treatment for each can vary. Part of earning a Comprehensive Stroke Center certification includes experience in successfully performing procedures and treating certain types of strokes. This knowledge allows doctors to begin treatment immediately when a patient arrives because they've done it before.
Having 24/7 imaging services, experienced doctors who can diagnose and treat the different types of strokes, and a designated space for patients means people can get the efficient care they need to avoid major brain damage.
"One of the advantages of being a Comprehensive Stroke Center is all of these services are in one place and they can be happening all at the same time," said Dr. Jeremiah Johnson, a neurosurgeon at the Comprehensive Stroke Center at The Woodlands Hospital.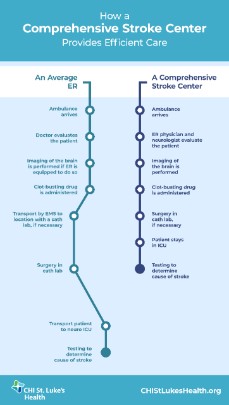 Find a Doctor
---
Looking for a doctor? Perform a quick search by name or browse by specialty.