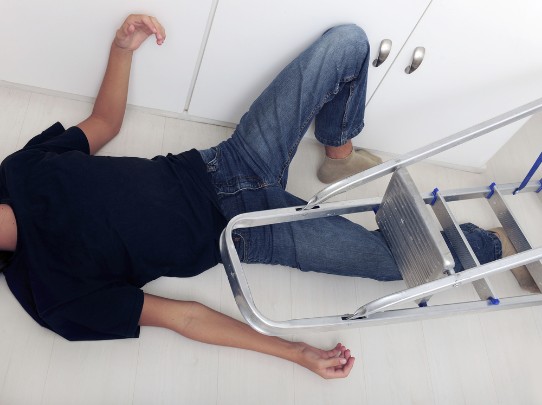 Common Accidents That Result in ER Visits
Many things can lead to emergency room visits, including severe headaches, chest pain, abdominal pain and injuries sustained from accidents. Accidental injuries can be sustained both inside and outside your own home. Some of the most common accidental injuries originate from falls, motor vehicle accidents or sports. Here are some common injuries, which can lead to trips to the emergency room.
Falls
Falls are the leading cause of emergency room visits and account for more than 8 million hospital emergency room visits each year. The Center for Disease Control (CDC) found that emergency room fall-related visits increase with a patient's age. Older adults who have fallen often avoid talking to their doctor about it, but it's important to know when a fall requires a trip to the doctor or emergency room because a fall for an elderly person could cause underlying issues as older adults are especially prone to hip fractures and traumatic brain injuries after a fall.
Motor Vehicle Accidents
According to the CDC, motor vehicle crashes are the leading cause of injuries in the US with almost 7,000 people treated in emergency departments daily due to car crashes. Motor vehicle accidents could be a car crash, motorcycle accident, jet ski accident, dirt bike accident or four-wheeler accident. With each of these potentially fatal accidents, there are many possible injuries that could lead to a trip to the emergency department, including: traumatic brain injuries or head trauma, cuts or skin lacerations, contusions or bruising, broken bones, and many others.
Sports Injuries
Sports injuries are another common reason for a trip to an emergency room, especially for children who sustain a sports-related injury. One of the most common sports injuries seen in emergency departments is head trauma, including concussions. A concussion is considered a mild form of a traumatic brain injury and needs to be watched closely. If someone has hit their head and experiences dizziness, nausea, vomiting, slurred speech, trouble balancing or a brief blackout, it's important to seek medical attention immediately. Other common sports-related injuries are sprains, tears and broken bones.
When to visit an Emergency Room As a Result of an Accident:
If you believe a bone may be broken or fractured
If there was a serious head injury
If a laceration requires stitches
If bruising or swelling is severe
Find a Doctor
---
Looking for a doctor? Perform a quick search by name or browse by specialty.