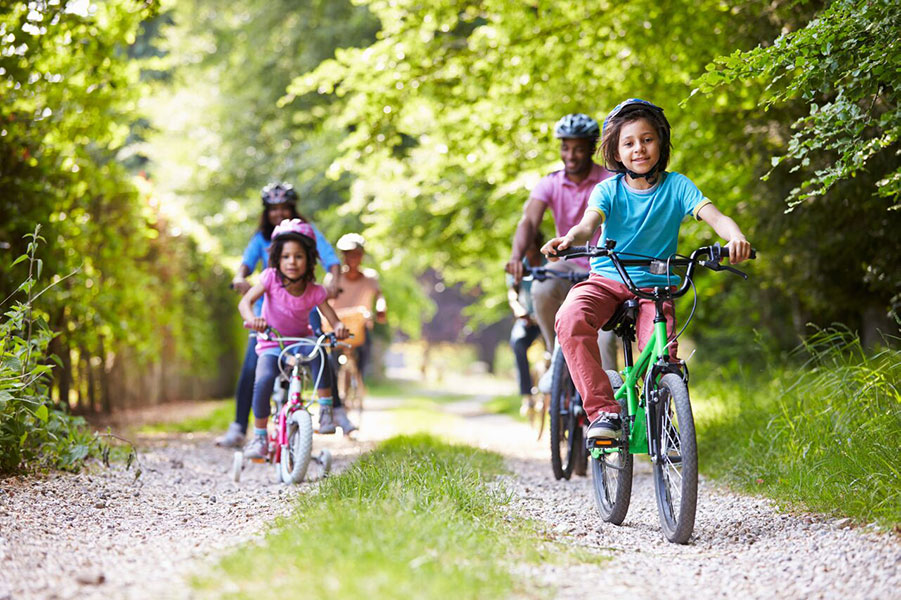 Fitness for the Whole Family
The benefits of physical activity are clear. Kids and adults who stay active have a healthier weight, stronger muscles and bones, and a decreased likelihood of developing certain diseases. Physical activity can also boost confidence and lessen feelings of depression. As children age, they often spend less time being active, which can be detrimental to their overall fitness. Do your part to keep a healthy focus on family fitness!
Making Fitness Fun
Keeping active doesn't have to mean lifting weights at the gym. There are a number of everyday ways to keep your family moving while doing engaging, relationship-building activities. For instance:
Go hiking at a local park
Play an active video game that requires body movement
Play games like tag, Frisbee, or catch
Play sports together, such as soccer, kickball, basketball, or tennis
Swim at a community pool
Take the stairs rather than the escalator or elevator
Take the dog for a walk or jog
Train for a charity run
Garden together
Dance in the living room to your favorite songs
Ride your bikes at a local park or around town
Find healthy lifestyle activities in your community!
Setting Priorities
There are some key things you can do to ensure your family stays healthy and active.
Create a family activity calendar.

Schedule activities each week in a place where the whole family can see it.

Be flexible.

If plans interrupt your scheduled activity, move it to another time rather than canceling.

Be encouraging.

Some children have more difficulty with physical activity than others. Some may even feel self-conscious. Let your child do what they can at their own pace, and focus on providing opportunities for judgment-free, fun things to do to keep fit.

Let your child pick activities.

This is a great way to get your child involved and excited about your family's fitness activities.

Make a list of fun choices.

Write down as many activities as you can think of to get the ball rolling.

Talk to your child's pediatrician.

If your child has injuries

or other health concerns, his or her

pediatrician

or a

family medicine physician

can help recommend safe activities.

Be a role model.

Your positive, encouraging attitude is what will help shape your child's perception of fitness the most.
A child with healthy habits is more likely to grow into an adult with healthy habits. When you involve the whole family in activities, you can shape your physical fitness while strengthening your family bond. If you have any questions about your child's activity level or nutrition, talk with your Baylor St. Luke's Medical Group pediatrician. You can also make an appointment with your primary care physician for regular check-ups and family health advice.
Source:
Making Family Fitness Fun
Find a Doctor
---
Looking for a doctor? Perform a quick search by name or browse by specialty.