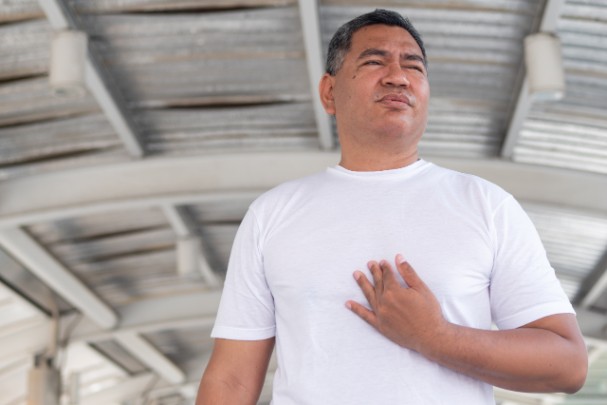 Got GERD? Watch out for Barrett's Esophagus
Ever feel a burning sensation in your chest after eating spicy foods or have a coughing fit after drinking a soda? These can be signs of acid reflux, and if these symptoms persist, you could have gastroesophageal reflux disease (GERD). While the discomfort of heartburn is temporary, untreated acid reflux can do some permanent damage, leading to conditions like Barrett's esophagus. 
What Is Barrett's Esophagus? 
To understand Barrett's esophagus, we first have to learn a little bit about acid reflux. The lower esophageal sphincter (LES) separates the esophagus and the stomach. Typically, it should open to let food into the stomach but stay closed to keep the stomach acid from traveling up the esophagus. Acid reflux occurs when the LES relaxes or experiences too much pressure from below, allowing stomach acid to move upward and creating some uncomfortable symptoms. 
If you have GERD, stomach acid frequently comes into contact with your esophagus. Over time, this exposure can alter the cells that make up the lining, causing Barrett's esophagus. In healthy esophageal tissue, the cells stack upon one another, but, in the tissue of someone with Barrett's esophagus, the cells line up next to each other. This configuration is similar to the cells in the small intestine. 
Is Barrett's Esophagus Serious?
If you've recently received a Barrett's esophagus diagnosis, you might be a little confused about what it means for your overall health. According to a study from Denmark, people with Barrett's esophagus were at a higher risk of developing adenocarcinoma (a type of cancer) in the esophagus. However, about 11% of participants received a subsequent cancer diagnosis, and the researchers calculated an annual risk of only 0.12%. So while the risk is small, a Barrett's esophagus diagnosis is a reason to talk to your doctor and have regular checkups for precancerous cells (dysplasia).
How Do You Prevent Barrett's Esophagus From Progressing? 
If you have Barrett's esophagus, your doctor will work with you to determine the best way to prevent acid reflux and, therefore, the progression of the condition. Some common treatment methods for GERD include: 
Dietary changes. Certain foods are more likely to upset your stomach and lead to acid reflux. Avoid carbonated beverages, mint, chocolate, caffeine, and spicy, greasy, or acidic foods. 
Weight loss. The more weight you carry around your stomach and waist, the more pressure there is on the stomach, which can push acid upwards. Your doctor may recommend bariatric surgery.
Medication. Your doctor may prescribe an H2 blocker or a proton pump inhibitor (PPI) to reduce the amount of stomach acid your body produces. 
Surgery. If none of the previous treatments are effective at managing your GERD, your doctor may recommend a surgical solution, such as the LINX Reflux Management System. 
What If Dysplasia Occurs?
Find a Doctor
---
Looking for a doctor? Perform a quick search by name or browse by specialty.