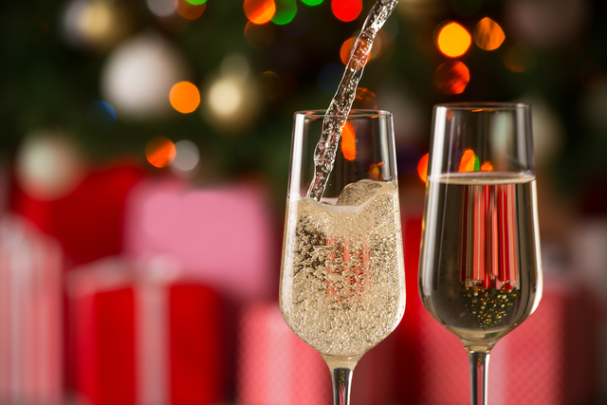 Holiday Spirits and Safe Drinking
The holidays are a wonderful time to gather with family and friends, and alcohol is often an expected party guest. While drinking in moderation can be part of holiday festivities for adults 21 and older, keep these guidelines in mind to keep yourself and your party guests safe.
Manage Party Drinking: Tips for the Host
As a party host, allowing guests to overindulge is a risk to their health that could also pose legal issues for you. Consider the following tips to protect yourself and your guests during your next holiday event.
Don't pressure anyone to drink.

Offer a variety of non-alcoholic beverages.

Serve food if alcohol is also being served.

Don't let guests who are drunk continue to drink.

Don't allow guests to drive if they have had too much to drink.
Remember: the only way for someone to sober up is for time to pass. Coffee or a cold shower does not lower the amount of alcohol in the bloodstream. Familiarize yourself with the signs of alcohol poisoning to know when to call 911.
Prevent Overconsumption: Tips for the Guest
When attending holiday events away from home, there are steps you can take to reduce your risk of overconsumption or injury from alcohol-related accidents. When you need to travel, remember the following:
If attending a holiday event with a group, choose a designated driver.

If you plan on drinking, take the essentials for staying overnight in case you are unable to get a safe ride home.

Familiarize yourself with the public transportation options available in your city.

Buckle up. Especially when other drivers on the road are more likely to be intoxicated, this safety stand-by is more important than ever.

Be aware of how long you need to wait to be sober. In general, it takes one drink one hour to leave your system. Do not take risks if you could still be intoxicated.
Alcohol affects each person differently. Over time, no matter your tolerance, excessive alcohol use can lead to health problems, including liver damage and heart disease. Even when a sober ride is available, binge drinking can have a dangerous impact on your overall health. Ask your doctor if drinking alcohol is safe for you based on your unique medical history. In the event of an alcohol-related emergency, call 911. You can request to be taken to a St. Luke's Health emergency department. Above all, we wish you a safe and happy holiday season!
Find a Doctor
---
Looking for a doctor? Perform a quick search by name or browse by specialty.