How the World Is Supporting Healthcare Workers (And How You Can Too)
This blog was posted on April 1st. Because the situation surrounding COVID-19 is constantly evolving, some information may not be up to date. Stay informed by following information from your local officials and by visiting the CDC website.
The healthcare workers at the front lines of the COVID-19 pandemic are true heroes. They sacrifice so much for the community as they put themselves at risk to care for those infected with the novel virus. So let's take care of them as they care for our neighbors and loved ones.
Here are a few ways the world has shared their appreciation for nurses, doctors, and hospital staff and how you can support care providers in your hometown and around the globe.
Special Promotions to Support Healthcare Workers
Local businesses are offering discounted (or even free) services — like childcare, pet boarding, and lodging — to healthcare providers directly. But you don't have to own a business to get involved in this respect. Many brands are currently having promotions with a charitable twist.
Allbirds is running a donation bundle promotion that allows purchasers to supply a pair of comfy shoes to a member of the healthcare community. Airbnb is partnering with their host community and medical nonprofits to provide convenient housing for healthcare professionals and first responders. We encourage you to find out how your favorite brands are getting involved!
Meal Donations to COVID-19 Frontline Staff
Food donations for our team keep pouring in! We are forever grateful to our local restaurants for their love and support during this time.
If you're looking to help feed your local care teams, call the clinic or hospital in advance to ask if they can receive large meal, snack, or coffee deliveries. If so, you can organize a donation potluck. Round up a group of friends to electronically gather monetary donations. Using this "donation potluck" of funds, one member of the group can place an order with a local restaurant and have it delivered to the facility.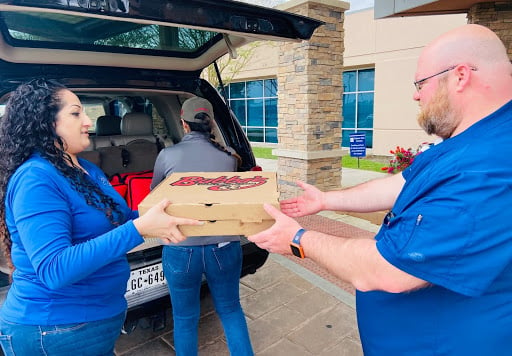 Find a Doctor
---
Looking for a doctor? Perform a quick search by name or browse by specialty.