Staying Healthy and Safe at the Beach
Are you heading to the beach this summer? Be sure to keep sun and swim safety in mind. Brush up on your beach safety knowledge and share these important tips with friends and family before hitting the sands.
Practice Safe Sun
Decrease your risk of skin cancer, skin damage, and premature aging by protecting your skin. If you find a suspicious spot on your skin, schedule an appointment to get it checked out immediately.
Limit your sun exposure, especially between 10:00 am and 4:00 pm.
Apply sunscreen 30 minutes before going outside in the sun.
Wear water-resistant, broad-spectrum sunscreen with at least SPF 30, even on cloudy days.
Reapply sunscreen every two hours and after sweating or swimming.
Wear brimmed hats, sunglasses with UV protection, and lip balm with SPF.
Cover all exposed areas of skin with sunscreen, including ears, tops of feet, and the back of your neck.
The higher the temperature, the higher the risk for heat-related illnesses, like heat exhaustion and heat stroke. These dangerous conditions can be prevented by keeping your cool.
Limit physical activity while in the heat.
Drink plenty of water and fluids with electrolytes.
Avoid eating a large or hot meal before going out into the heat; this makes your body heat up quickly.
Avoid sugary beverages and alcohol.
Avoid drinking extremely cold fluids; these can cause stomach cramps.
If someone feels ill, move him or her to an air-conditioned or shaded area, fan the skin, and apply cool water to the skin. Offer water to drink if the victim is conscious. If the victim's condition worsens or he or she loses consciousness, call 911.
Use our Beach Safety Essentials infographic to make sure you bring important safety items with you to the beach.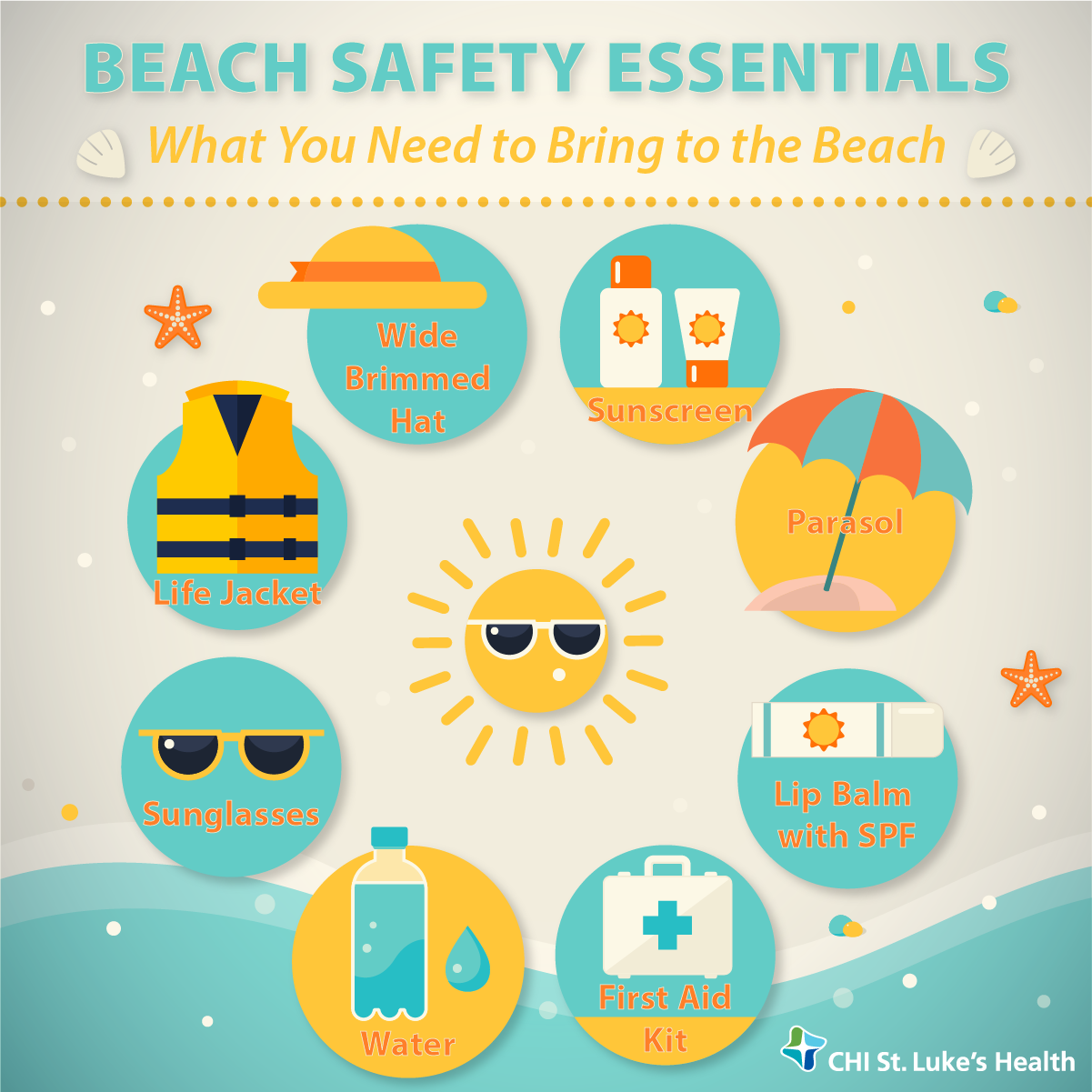 Ocean Safety
Whether you are surfing, swimming, or floating, follow these ocean safety tips at all times.
Learn how to swim through certified swimming lessons before swimming in any body of water.
Check the conditions of the water by looking out for warning flags or asking the lifeguard.
Do not swim in oceans with conditions beyond your swimming skill level.
Never dive head first into the ocean; underwater terrain is always changing and unpredictable.
If surfing, try to fall flat against the water with hands extended in front of you.
When surfing or boogie boarding, attach your ankle or thigh to the leash so you can find the surface in case you become disoriented under water.
Have inexperienced swimmers wear U.S. Coast Guard-approved lifejackets.
Always supervise children on the beach, even on the shore; children can go into the water when you aren't looking.
Never swim alone; always have a buddy with you and a supervisor on shore.
Do not swim in waters where people are fishing.
Only swim when there is a lifeguard on duty.
Never swim in the ocean when it's dark outside.
Do not swim after drinking alcohol; about 50% of drowning victims over 13 years of age had high blood-alcohol levels.
Never swim near permanent structures, such as a pier, because rip currents often occur near structures.
According to the U.S. Lifesaving Association, rip currents account for 80% of rescues performed by beach lifeguards. Rip currents form when water moves away from the shore. If you are caught in a rip current, do not swim against it. Stay calm and swim parallel to the shore until you feel the current release; then you can swim toward the shore. If the force of the current is too strong or you are not a strong swimmer, tread water and float in the current until it weakens. Wave your arms and call for help if needed. Share this life-saving information with your loved ones.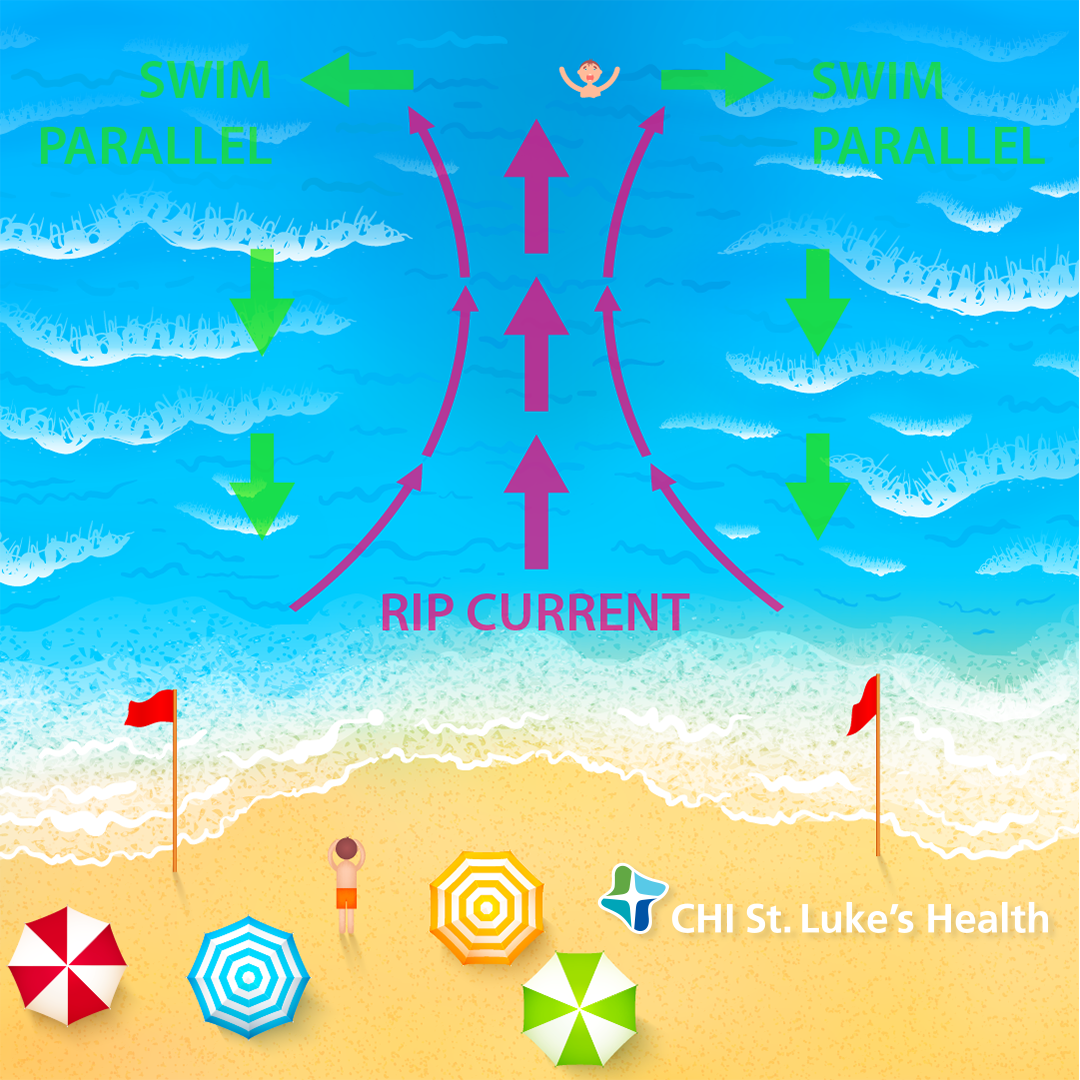 Find a Doctor
---
Looking for a doctor? Perform a quick search by name or browse by specialty.